Punters putting their trust in English-trained raider Danceteria in Saturday's Cox Plate might be in for a white-knuckle ride as the five-year-old gelding is likely to be slowly away and need some luck in running to charge home late.
Fortunately for anyone investing on the son of Redoute's Choice, his partner will be Irishman Jamie Spencer, a former UK and Irish champion jockey who is renowned for his sense of timing and ability to arrive late and win races right on the line.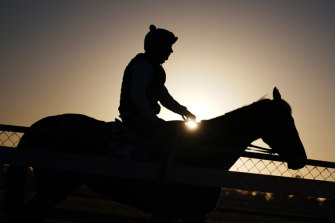 Whether Danceteria, a group 1 winner in Germany at his last start, is good enough remains to be seen.
But his trainer, Sussex-based Frenchman David Menuisier, is confident that the Australian Bloodstock-owned horse is in great shape to do himself justice despite having missed a lead-up run in the Caulfield Stakes two weeks ago.
"I am feeling great and the horse feels great, when he feels great, I feel great," Menuisier said on Wednesday as he supervised his charge's light exercise at Werribee.
"He did his last piece of work yesterday over 1400 metres, today was a trot and a hack, a matter of stretching his legs."
The Frenchman believes that the tight Valley circuit – sharper than the sort of courses most European horses ever run on – will suit Danceteria.
"It's a quirky track, until you try, you don't know. You can't sign with your blood that it will all be fine. I think he's a well-balanced horse, I don't think it will be a problem, it's flat. Because of the camber he can come wide and have a run on the outside."
Underfoot conditions will not be a problem either.
"He does handle any ground, quick, slow, he's probably at his best when the ground is quick."
His running style will mean that Spencer has to be tactically aware at all times in the 2040-metre contest.
"He is always slow away, he can creep into a race, he has a very long stride and he has a very good turn of foot.
"We will leave it to Jamie, Jamie knows him really well, he will have to play it by ear and make his own luck throughout the race, I am not going to tie him to instructions.
"He is quite slow away, I was quite happy with the draw, I didn't want him to be trapped on the rail.
"If they go dead slow it will be for Jamie to take the right decision at the time."
The trainer said not too much should be read into the fact that Danceteria missed a warm up run at Caulfield.
"He just had a little bit of mucus. He worked really well on that Friday. When he came back he had a little bit of mucus in his nostrils, we did a scope … we thought, 'what's the point of running?'
"If you run and run below par you always wonder then you kick yourself. So there is no point."
Trying to work out where his horse stood on form was difficult, he said.
"It's very hard to gauge the form from horses abroad. We have run abroad in Japan and Canada, and the main thing is to target on the horse and make sure the horse is spot on. He's glowing."
This story originated at theage.com.au