Cody Morgan is one step closer to winning The Kosciuszko after Edit took out the Spring Cup at Tamworth on Monday.
Australian Bloodstock purchased the son of Swiss Ace – formerly raced in New Zealand – with the intention of winning the $1.3 million country sprint at Royal Randwick next month.
Starting as a $6 chance after drifting in the market significantly, Edit had a lot of work in front of him at the top of the straight, but jockey Koby Jennings navigated a passage through the field to secure a win in the horse's first Australian start.
"In certain ways it was easy; but in other ways, there was a bit of navigating to do and a bit of thinking going into it," Jennings told SEN Track.
"It all paid off and when you've got the horse underneath you to do it, you can make it look pretty easy.
"He always felt like there was a big motor underneath him.
"As we were turning, I could see splits starting to open up and give me a pathway onto the favourite's back, so I wasn't going to let that go to waste.
"Once I got there – I probably built up a bit too much momentum – the favourite didn't kick very well, so I had to weave a path and we ended up inside.
"When you can let down that quickly, small gaps become big gaps."
Edit needed 30 stitches in his head after a mishap three weeks ago, and Morgan is in awe of how the gelding has performed since the setback.
"He don't run on his head," he told Sky Thoroughbred Central.
"Once he got in the enclosure there today, I just said to Koby, I said he looks like a man racing boys – he's a beast.
"This race (The Kosciuszko), for a country trainer, you know, you're racing for a million dollars in three weeks, and I tell you what, there is pressure and I guess I'm not used to it.
"The staff have done a really good job; just even getting here, I guess I'm a little bit emotional – he had 30 stitches in his head three weeks ago."
Morgan is confident the horse will improve between now and The Kosciuszko, with the trainer believing he still has "four or five lengths" up his sleeve.
"Once he drew (barrier) 11 of 11, off his trackwork with the blinkers on, I worked him in them and he worked as good as he could work, but once he drew 11, we left them off," he said.
"They'll go on (in The Kosciuszko), Koby's done a marvellous job today, but obviously Hugh Bowman is booked to ride in a couple of weeks.
"I wish it was a quieter horse so we could go along for the journey a bit more, but he's going to keep us on our toes for the next three weeks."
The victory saw Edit firm into as short as $6 with online bookmakers in The Kosciuszko, which is set to run on October 16 at Randwick.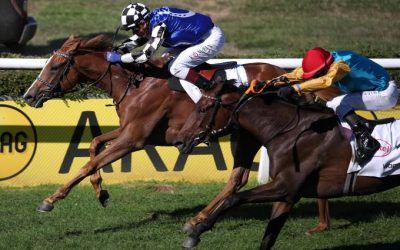 Story by anzbloodstocknews.com.au:  Murrell and Lovett win third Preis der Diana in ten years with Andreas Wohler-trained daughter of Shamalgan Australian Bloodstock won its third Preis der Diana (Gr 1, 2200m) in a decade in Germany on Sunday, but don't expect to see...
read more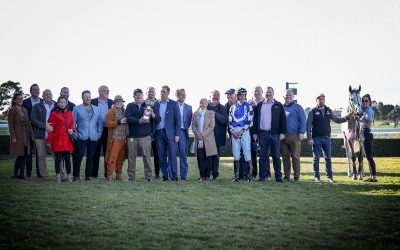 Saunter Boy | Aug 07, 2022 | Race: 5 - Sandown -Lakeside | Margin: 0.80 | Ciaron Maher & David Eustace /  S Pateman $400,000 Grand National Hurdle (4200 METRES)WATCH THE RACE>>Owners: Australian Bloodstock (Mgr: L Murrell), Australian Bloodstock No 2 (Mgr: J...
read more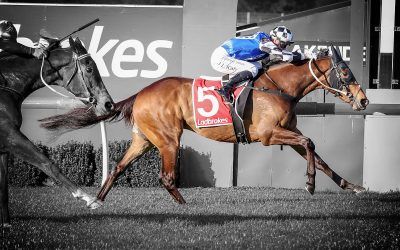 Golden Crusader | Aug 07, 2022 | Race: 6 - Sandown-Lakeside  Margin: 0.40 | Price Kent Racing / Jamie Kah $55,000 Ladbrokes Switch Handicap (2100 METRES)WATCH THE RACE>>Owners: Australian Bloodstock, Simon Dorrat, Louise Ellis, Matthew Faiman, Billy Geaney, Lisa...
read more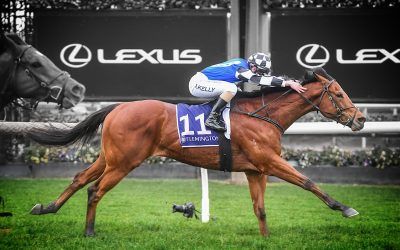 Turn On The Charm | Aug 06, 2022 | Race: 8 - Flemington| Margin: 0.30 | Price/Kent Racing / Alana Kelly $150,000 The Skyline Lounge (1410 METRES)WATCH THE RACE>>RECENT PURCHASES[mist_new_horses_available template="off" items_per_slide_tablet="1" loop_slider="on"...
read more