There's more to horse racing than what we see on a Saturday, the glamour and the thrill of winning races is great, but the love that those in the industry have for these beautiful animals is something to behold and rarely gets any light, and Daniel Campbell, track rider and groomer from the UK epitomises that love.
Early starts and late finishes for all involved but along the way the bonds that track riders, groomers and staff build with their equine mates are special indeed.
So special that with a broken leg (which he got from Chief Ironside's half brother after a pesky pigeon caused some drama) Daniel has flown halfway around the world to see his beloved Chief Ironside! 
Daniel shares no part in the ownership of "Chief", it's purely the bond they share that has brought him to beautiful Australia.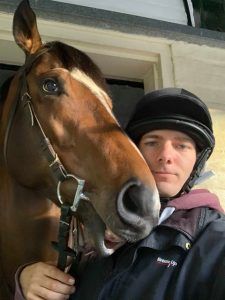 Daniel Campbell with Chief Ironside
Daniel first met "Chief" after he was sold at Tattersalls Yearling sale for 155,000 guineas in 2016. 
"He looked amazing when he came to the William Jarvis stables being built like a tank"
After his education Chief Ironside showed ability on the gallops almost instantly catching the eye.
"Chief found his work extremely easy and would power up Warren Hill effortless as his stride was so big, he just loves to run and would get excited whenever I saddled him up"
Always keeping an eye on the Chief Daniel could see he wanted further and asked to step him up in distance.
"I told Mr Jarvis that this is one of the best horses he has in training. He then ran Chief over a mile finishing 4th but needing the run. I mentioned to Mr Jarvis that a step up to 1m 2f would suit Chief and he declared him to run at Chester in a strong Maiden race. Where entering the final 2 furlongs Chief powered clear to win by 3 lengths eased on the line. I was so emotional as I knew Chief was a machine."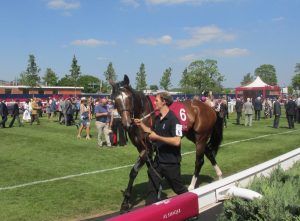 Chief Ironside kept on improving being a Class 2 winner at Newmarket.
"When Chief ran in his first Group 3 I was extremely excited and nervous at the same time but Chief trusted me and again ran an exceptional 3rd beaten less than two lengths. To go on to York to be 3rd again was brilliant, I always knew Chief was a Group horse in the making"
After showing promise he was identified by Australian Bloodstock who purchased the son of Lawman with the aim of bringing him to Australia for the Spring Carnival.
"When I heard Chief had been sold I was extremely gutted, a horse I have spent so much time and effort with would be off to Australia to continue his career. I was extremely sad and cried at home for hours. Although I was upset i know the love that David Menuesier has for his horses and know the Chief is in great hands."
"The horse that made me love racing again leaving before my eyes. I remember the last time I saw him, calling him walking down the yard and Chief nayed and gave me a huge cuddle over the stable door"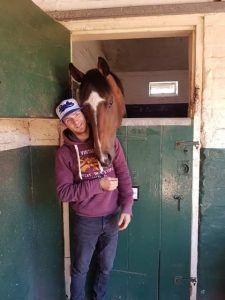 Now half a world away in Australia with a broken leg Daniel couldn't be more excited to be reunited with "Chief" on Saturday at Caulfield. 
"I just adore this horse so much and he's been a huge part of my life."
As we head into a massive Caulfield Stakes day take a moment to appreciate the 10's of thousands of groomers, track riders and stable staff that love these animals more than you could believe. In a sport that brings joy to so many never forget the only thing that matters for these hardworking equine lovers is their mates, the horses.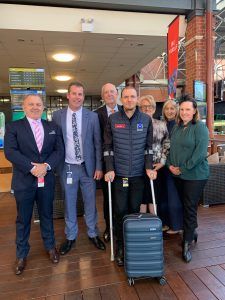 Daniel is at Caulfield today so if you see him give him a good old fashion Aussie welcome and cheer the Chief home!