Owners: Australian Bloodstock (Mgr: L Murrell), Ab Daysan (J Lovett), R Moore, A Smith, M Carter, D Hollyman, D Maratta, R Ferrari, G Aldridge, R Hattch, S Chester, N Jones, S Athea, A Tetley, J Keenan, G Quan, B Hathaway, S McMurray, V Chau, Ab Boys (L Buckley) & Newcids On The Block (A Dart)
FULLY SOLD!
DAYSAN
(Temple City x Malibu Pier)

Trainer: Kris Lees

Share Price
2.5% – $6,355 | 5% – $12,710
Includes: Horse, Transport, GST, Vetting, Travel, Registration & 12 months insurance.
Ongoing Costs for a 2.5% share: Budget on $30 per month when the horse is spelling and $120 per month when in full work.
There is a $22 per month management fee per share regardless of share size
DAYSAN is a 3yr old colt by Temple City who is by Dynaformer, the same sire as Americain. He is from a fantastic female family out of a Group 2 Winning mare who has produced multiple Group class horses!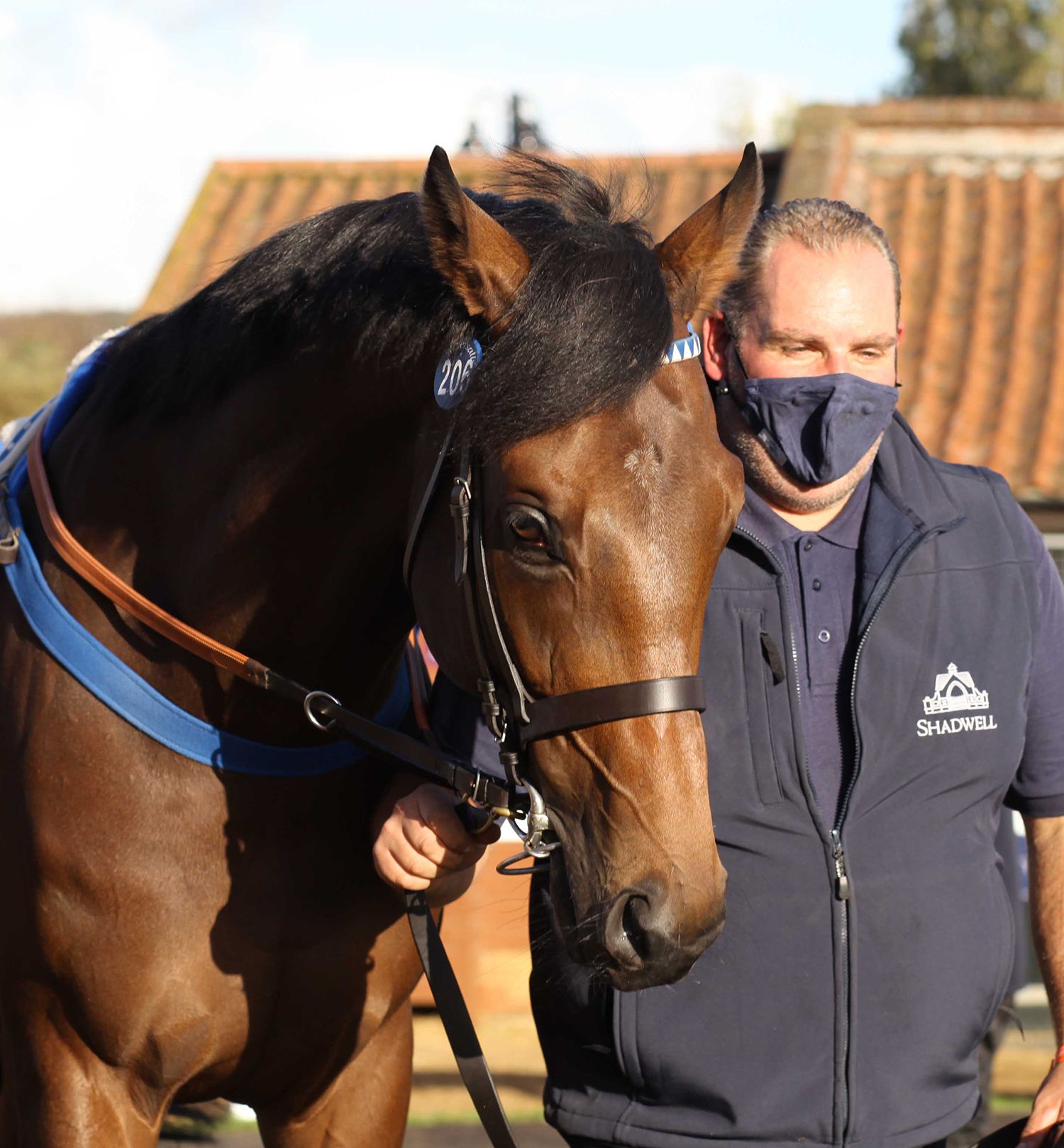 WATCH THIS EXCITING COLT MOVE!
WHY WE BOUGHT HIM:
Firstly he is a horse trained by Owen Burrows who is well regarded but seems to leave "plenty in them" and as a result we feel he is a trainer not to be scared to buy from.
For a horse with just 4 career runs, all in his first preparation, off the figures he has run in England, we think he's a horse that looks to be a progressive Saturday grade at minimum and hopefully much better.
From a price point of view he was 50% cheaper than we thought we would have to pay and hence our confidence is very high on him.
Form wise he is easy to like and will bring great upside on his arrival.
The Plan:
He will be booked on the plane in the next few weeks to come to Australia and arrive in November/December. He will be 2 weeks quarantine in England and then 2 weeks in Australia and then he will go straight into work.
There is no great plan with him but to simply look to place him to start to win his purchase price back similar to Mugatoo.
The horse is competitive at 2000m and can run 2600m on all conditions. Importantly he has a turn of foot and looks very genuine.
We are very confident he will be a great money earner and hoping he will make it to the better races in the Autumn but for now we'll get him fit and healthy and start going through the grades.
Form Analysis, Pedigree & Pricing below:
Below you will see his form, pedigree, price and a breakdown of some of his races that you can also view by clicking the links.
The below table gives you our UK rating and how it transfers to Australia.
| | |
| --- | --- |
| Our UK Rating | Australian Benchmark |
| 75 – 80 | Midweek Metro |
| 80 – 85 | Saturday Metro |
| 86 – 90 | Listed |
| 91 – 94 | Group 3 |
| 94 – 97 | Group 2 |
| 97> | Group 1 |
UK Ratings
3 Runs Ago
2 Runs Ago
Last Run
Career Best Rating In the UK
 
 
 
 
 
MAYFAIR SPIRIT
90
80
95
95
 
 
 
 
 
Previous Buys
 
 
 
 

Mugatoo

 
 
 
92

(Group 1 horse in Australia)

Chief Ironside

 
 
 
97

(Group 2 WFA winner in Australia, Group 1 ability)

Our Candidate

 
 
 
90

(Group 3 horse in Australia)

Korcho

 
 
 
90

(Will be Low Level Group performer in Australia)

Mustajeer

 
 
 
98

(Group 1 Horse in Australia)

Raheen House

 
 
 
98

(Group 1 Horse in Australia)

Big Duke

 
 
 
88

(Group 1 Horse in Australia)
1st Career Run – 16th August 2020 – Newbury over 2000m – Finished 3rd – Rating 88
Race comments: Burrows as a trainer rarely wins first time out and usually they are glorified barrier trials. We liked how the horse looked all at sea, very raw and green, ran into 2 very nice and above average horses and still finished so well.
The winner has won his race the start prior very impressively and then the start after this won just as impressively before his next start he would run 3rd in a hot Stakes race. The winner of that stakes race had run 2nd in a Group 1 and possibly the best Group 1 of the season.
The second horse here Piranesi had won very impressively the start prior and then the start post this won as easy as you like by 3 lengths at Ascot.
To get so close to 2 quality horses at your very first start and to run to a mark of 88 is an excellent sign and a certain warning sign that this horse and race was high quality.

Racing Post comments: DAYSAN missed the break but stayed on nicely to claim third behind a couple with wind to their name. A half-brother to a couple of smart performers in the US, he should be a lot sharper next time and there are races to be won with him.

2nd Career Run – 3rd September 2020 – Haydock over 2400m – Finished 2nd – Rating 82 (Best final 800m on the entire card)
Race Comments: With only a slow speed there was no surprise to see the overall rating down. But I'm very impressed to see the last 800m was the quickest on the day with the last 400m being the 3rd quickest on the day, a sign of class.
The heavy track was definitely not in his favour but I thought it was encouraging that he tried and could still run home in a decent time and best on the card which is very rare for a young horse.

3rd Career Run – 26th September 2020 – Chelmsford over 2600m – Finished 1st – Rating 93 (The final 600m was only 3 lengths slower than a 110 rated horse on the same card who is airborne at present. To get some big numbers from this race on a good quality card and rate so high is what confirms to us that he could be well above average)
Race Comments: The times here back to a firmer more genuine surface was the clincher. He's run a high rating here that suggests Group ability. Being a very good card and a high class meeting we can line him up with genuine Group horses and to get so close to them is a very promising sign.
His Last run was on a bottomless track where they ran 50 lengths slower than par. It was a typically bottomless track and nothing you could take from it.

FULLY SOLD!
DAYSAN
(Temple City x Malibu Pier)

Trainer: Kris Lees

Share Price
2.5% – $6,355 | 5% – $12,710
Includes: Horse, Transport, GST, Vetting, Travel, Registration & 12 months insurance.
| | | |
| --- | --- | --- |
| Ongoing costs | 2.5% share per month | 5% share per month |
| Horse is spelling (approx.) | $30 | $60 |
| Horse in training (approx.)  | $120 | $240 |
| Management fee | $22 | $22 |
Want info on your ownership experience? Head to our FAQ or send us an email.
Need a little time to pay your share off? We have Lay-by available!
Contact us to secure your share!
DAYSAN (USA)

Bay Colt
Foaled in 2017

---

| | | | |
| --- | --- | --- | --- |
| Sire | Dynaformer | Roberto | Hail to Reason |
| TEMPLE CITY (USA) | | Andover Way | His Majesty |
| 2005 | Curriculum | Danzig | Northern Dancer |
| | | Macoumba | Mr. Prospector |
| Dam | Malibu Moon | A.P. Indy | Seattle Slew |
| MALIBU PIER (USA) | | Macoumba | Mr. Prospector |
| 2007 | Blue Moon | Lomitas | Niniski |
| | | To the Rainbow | Rainbow Quest |

---

TEMPLE CITY (USA) (Bay or Brown 2005-Stud 2011). 4 wins from 6½f to 1½m, Del Mar Cougar II H., Gr.3. Sire of 504 rnrs, 304 wnrs, 17 SW, inc. Miss Temple City (Keeneland Maker's 46 Mile S., Gr.1), Annals of Time, Bolo, Kimbear, Startup Nation, Valedictorian, Archaggelos, Pricedtoperfection, It Can be Done, Omaha City, Trickle In, Dabo, Temple, Zarina, Temple Fur, Papacoolpapacool, Saratoga Heater, SP Another Mystery, Kasuga, Infringement, etc.

1st dam

MALIBU PIER, by Malibu Moon. 6 wins from 6f to 1¼m, US$466,200, Santa Anita Santa Barbara H., Gr.2, Santa Ana S., Gr.2, Hollywood Park Beverly Hills H., Gr.3, 2d Santa Anita La Brea S., Gr.1, Del Mar John C Mabee S., Gr.2, 3d Santa Anita Buena Vista H., Gr.2, 4th Santa Anita Las Palmas S., Gr.2, Oak Tree Harold C Ramser Sr H., Gr.3. Dam of six named foals, all raced, five winners, inc:-

COASTED (f. by Tizway). 2 wins at 2, US$366,066, Saratoga PG Johnson S., L, 2d Breeders' Cup Juvenile Fillies Turf, Gr.1, Gulfstream Park Herecomesthebride S., Gr.3, 3d Belmont Miss Grillo S., Gr.3, 4th Belmont Wonder Again S., Gr.3.

Malibu Stacy (f. by Tizway). 3 wins from 6½f to 1m, US$355,560, Saratoga Allowance, 2d Keeneland Raven Run S., Gr.2, Belmont Victory Ride S., Gr.3, 3d Santa Anita Wishing Well S., L, 4th Del Mar Goldikova S., Gr.2, Belmont Intercontinental S., Gr.3.

Daysan (c. by Temple City). Winner. See below.

Noiva (f. by Temple City). Winner at 1800m in Japan.

Snuck Out (f. by Into Mischief). Winner at 9f, US$102,187 in U.S.A.

2nd dam

BLUE MOON, by Lomitas. 4 wins-1 at 2-at 1600m, 341,318fr., US$283,180, Santa Anita Buena Vista H., Gr.2, Saint-Cloud Prix Ronde de Nuit, L, Prix Louqsor, 2d Keeneland Queen Elizabeth II Challenge Cup, Gr.1, Churchill Downs Locust Grove H., Gr.3, Deauville Prix des Reservoirs, Gr.3, Chantilly Prix de la Cochere, L, 4th Santa Anita Santa Barbara H., Gr.2, Longchamp Prix de la Grotte, Gr.3. Half-sister to Rose des Charmes (dam of REALITY), Tiptonia (dam of AGAIN CHARLIE). Dam of 11 named foals, 8 to race, 5 winners, inc:-

MALIBU PIER (Malibu Moon). 6 wins. See above.

Shine On. 7 wins from 1m to 1¼m, US$98,726 in U.S.A.

Troubling Moon. 3 wins at 1m, 8½f, US$159,521, Churchill Downs Allowance.

Patch of Blue. 3 wins from 1m to 9f, US$88,620, 4th Canterbury Park John Bullit S., L.

Traffic Trouble. Winner at 7½f in 2020 in U.S.A.

Anasy. Unplaced. Dam of-

Storm Katy. 2 wins-1 at 2-at 1400m, 1600m, €75,630, ParisLongchamp Prix des Nenuphars, 2d Deauville Prix de la Croix d'Heuland.

Supermoon. Unraced. Dam of-

Bad Moon Rising. Winner at 1600m in 2019-20, SAJC Furphy P.

Deda Queen. 5 wins from 1600m to 2200m to 2020, 2d Milan Premio La Bergamina, 3d Milan Premio Pinacoteca di Brera, Premio Scuderia Bocconi.

3rd dam

TO THE RAINBOW, by Rainbow Quest. Placed in France. Half-sister to BIG JOHN, Fifre de Go, Cootamundra (dam of MUNDYBASH), Tanapa (dam of QUIRINETTA, TAMISE, LUTHIER'S LAUNCH, TARZAN CRY), Trelakari (dam of BANNABY), Topeka (dam of HOPE AND LIGHT), Touraille (dam of KANDAKIEV). Dam of 11 foals, 7 to race, 2 winners, inc:-

BLUE MOON (Lomitas). 4 wins. See above.

Rose des Charmes. Unraced. Dam of-

REALITY (Slickly). 3 wins-1 at 2-at 1300m, 1600m, Cagnes-sur-Mer Prix de la Californie, L, Prix Joseph Collignon, Deauville Midi Prix de Mastainville. Producer.

Storm's Rainbow. Unraced. Dam of-

Jules J (Action This Day). 9 wins-3 at 2-from 4f to 8½f, US$160,354, 3d Golden Gate Golden Poppy S., L. Producer.

Tiptonia. Unraced. Dam of-

AGAIN CHARLIE (Medecis). Champion Stayer in Spain in 2016. 4 wins from 2100m to 2800m, €135,100 in France and Spain, Madrid Gran Premio Memorial Duque de Toledo, L, Gran Premio Villamejor, Gran Premio de San Sebastian, 2d Madrid Derby Español, 4th Cagnes-sur-Mer Grand Prix du Departement, L.

Episodia (Palace Episode). 2 wins at 2200m in 2020 in France, 2d Hannover Gorilla Millions Cup, L, 4th Hannover Grosser Preis der Mehl-Mülhens-Stiftung, Gr.3.

Sailor (Soldier of Fortune). 2 wins at 2200m, 2600m, 3d Lyon-Parilly La Coupe des Trois Ans, L.

Race Record: 4 Starts 1-1-1 £5,821.

Winner at 13½f in 2020, 2d Haydock Betfair S.