Price:2.5% - $3,703 | 5% - $7,406
Incentives: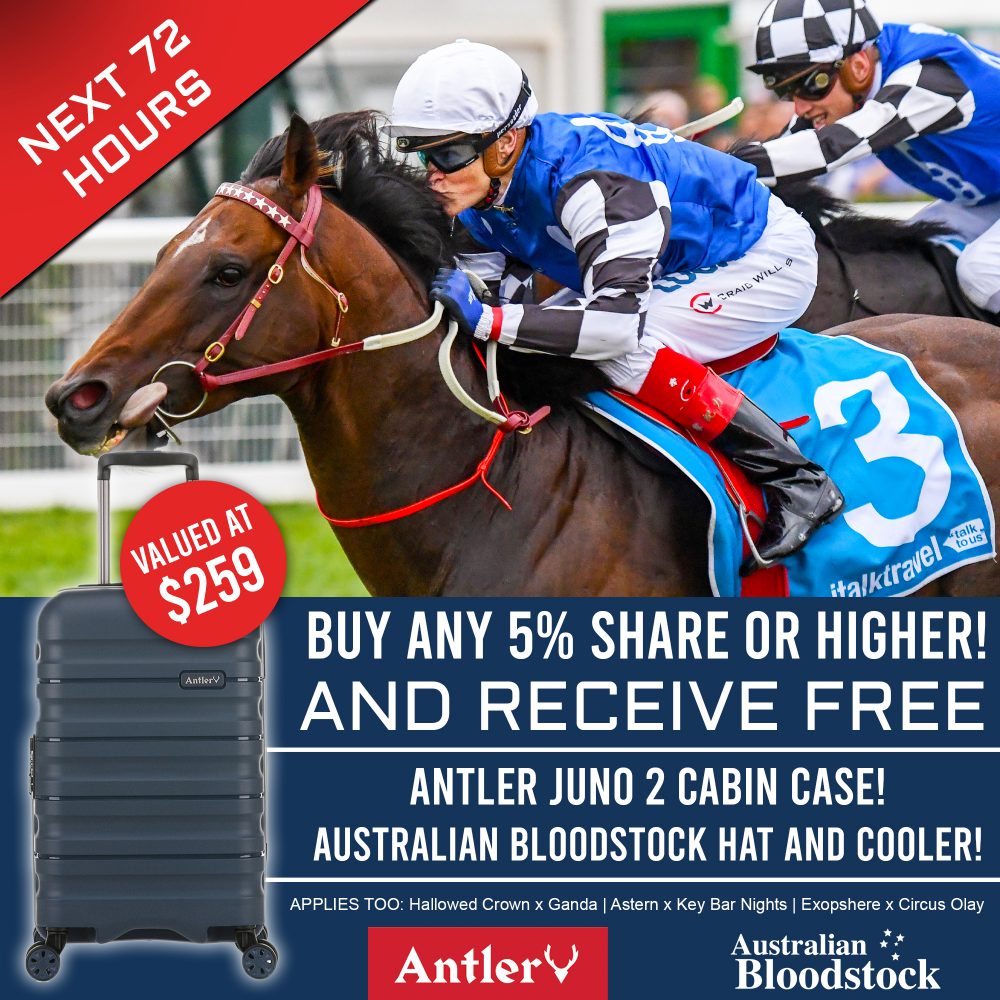 This filly has exceptional balance and that's a key to FAST horses and we think at the price she represents great value. Kris Lees will train this filly and you can see by her photo and the way she walks why he loved her.
WHY WE BOUGHT HER
This filly is extremely well balanced and for mine if they can be athletic and well balanced then they can generally run. Presented by Attunga she is a medium sized loose walking filly but with such a good pedigree and with Attunga having a good record of selling Stakes horses we think she is a bargain.
SIRE – Exosphere (Lonhro x Altitude)
She is by the first season Sire Exosphere who is by Lonhro, a champion sire. Given Exopshere was such a weapon as a race horse we think he is a better than average chance of making it as a sire.
Australia's best three-year-old, he won the G1 Golden Rose in record time. A stunning physical specimen by Champion sire Lonhro.
DAM – Circus Olay (Flying Spur x Real Quality)
Circus Olay was an unraced daughter of Flying Spur and he has been a tremendous broodmare sire producing earnings of over $150m. Circus Olay was unraced due to a racetrack injury
TRAINER – Thoughts from Kris Lees
"I had a very high opinion of Exosphere when he raced and I'm keen to get some of his progeny. She was a lovely balanced filly with a nice deep pedigree and she looks to have a great attitude about her. 
I think she will be racing around this time next year with luck and if she runs to her pedigree she will get every chance . Being a BOBS Eligible filly she has lots of earning potential and I think in a sale so strong she was a good buy at the price."
BOBS Registered – A fantastic scheme for NSW bred horses that significantly increases prize-money. More info.
Share Price
2.5% – $3,703  | 5% – $7,406
| | | |
| --- | --- | --- |
| Ongoing costs | 2.5% share per month | 5% share per month |
| Horse is spelling (approx.) | $30 | $60 |
| Horse in training (approx.)  | $110 | $220 |
| Management fee | $22 | $22 |
Want info on your ownership experience? Head to our FAQ or contact us.
Need a little time to pay your share off? We have Lay-by available!
Got a question?
SEND US A MESSAGE
BAY FILLY (AUS)

Foaled 2nd August 2018

---

| | | | |
| --- | --- | --- | --- |
| Sire | Lonhro | Octagonal | Zabeel |
| EXOSPHERE (AUS) | | Shadea | Straight Strike |
| 2012 | Altitude | Danzero | Danehill |
| | | Highest | Marscay |
| Dam | Flying Spur | Danehill | Danzig |
| CIRCUS OLAY (AUS) | | Rolls | Mr. Prospector |
| 2011 | Real Quality | Elusive Quality | Gone West |
| | | Gatana | Marauding |

---

EXOSPHERE (AUS) (Bay 2012-Stud Aust. 2016, France 2017). 5 wins-2 at 2-from 1000m to 1400m, A$1,091,600, ATC Golden Rose S., Gr.1, Roman Consul S., Gr.2, Skyline S., Gr.2, Run to the Rose H., Gr.2, 4th VRC Coolmore Stud S., Gr.1, Lightning S., Gr.1. Grandson of SP Highest, a half-sister to SW Tell Me Straight (WATC Belgravia S., L) and SW Vibrant Virgo. Closely related to SW Destino, SW Genuine Girl, SW Impressing Matters, etc. Sire of the placegetters Jemss, Sunburnt, etc. His oldest progeny are 2YOs.

1st dam

CIRCUS OLAY, by Flying Spur. Unraced. This is her third foal. Her second foal is a 2YO. Dam of one foal to race.

2nd dam

REAL QUALITY, by Elusive Quality. Winner at 1000m in Aust. Half-sister to PICCADILLY CIRCUS (dam of FASTNET ROCK), RAHEEB, Donnadane, Heart Strings. Dam of 3 named foals, 1 to race, inc:-

True Quality. Winner at 1200m in 2018-19, BRC Brc.com.au H.

3rd dam

GATANA, by Marauding. 4 wins to 1200m, A$235,650, VRC Red Roses S., L, Hilton on the Park Sprint H., L, Indian Summer H., 2d VRC Newmarket H., Gr.1, SAJC Swettenham Stud S., Gr.3, VRC Battle of Britain H., VATC Singapore Airlines H., Nearest Welter H., Florence H., 3d MVRC Stanley Wootton S., Gr.2, NEC-BVS H., 4th VRC Rupert Steele S., Gr.3. Dam of 11 foals, 9 to race, 8 winners, inc:-

RAHEEB (Royal Academy). 4 wins at 1100m, 1400m, A$350,350, Newcastle JC Cameron H., Gr.3, VRC Paris Lane S., L, 2d STC Phar Lap S., Gr.2, BTC Doomben Classic, Gr.3, STC Concorde S., Gr.3, QTC Queensland Day P., L, 3d AJC Carbine Club S., L, 4th MRC Toorak H., Gr.1, STC Tulloch S., Gr.2, VRC Bobbie Lewis H., Gr.3. Sire.

PICCADILLY CIRCUS (Royal Academy). 2 wins at 2, A$265,500, VATC Blue Diamond Prelude, Gr.3, Debutante S., L, 2d VATC Blue Diamond Preview, Gr.3, MVRC William Crockett S., L, 3d VATC Blue Diamond S., Gr.1, VRC Maribyrnong P., Gr.2. Dam of-

FASTNET ROCK (Danehill). Champion 3YO colt & sprinter in Australia in 2005. 6 wins to 1200m, A$1,724,100, VRC Lightning S., Gr.1, MRC Oakleigh P., Gr.1, VRC Lexus Classic S., Gr.2, AJC Up & Coming S., Gr.2, VRC Rory's Jester P., Gr.3, NSW Tatt's RC Roman Consul S., Gr.3, 2d AJC TJ Smith S., Gr.1, VRC Newmarket H., Gr.1, AJC San Domenico S., Gr.2, STC Pago Pago S., Gr.2, MRC Guineas Prelude, Gr.3, STC Skyline S., Gr.3, 3d AJC Sires' Produce S., Gr.1, VRC Poseidon S., L, 4th STC Golden Slipper S., Gr.1, Silver Slipper S., Gr.2. Champion sire.

Cirque du Soleil (Danehill). Winner at 1100m, 2d VRC Waltzing Lily H., L, MRC Canonise H., 3d AJC Keith Mackay H., L, 4th STC Magic Night S., Gr.2, MRC Blue Diamond Prelude (f), Gr.3. Dam of-

Emotional Circus (Elusive Quality). 4 wins at 1100m, 1200m, A$281,550, Scone RC HTBA Protect Our Industry H., ATC Camden Hire H., New Breed Racing H., 3d ATC Premiere S., Gr.2.

Twirl (Lonhro). Placed at 2 & 3, A$85,695, 2d ATC Sweet Embrace S., Gr.2, TAB Iphone App 2YO P., Theraces.com.au H., 3d ATC Widden S., Gr.3.

Mysterious Light. 2 wins at 1250m, 1400m, A$115,850, STC Solo Strong H., AJC St George Cancer Care H., 3d STC Festival Finale H. Dam of-

HAN XIN - SUN MARSHAL (Sing.) (Sepoy). 5 wins from 1600m to 2000m, A$131,725, S$768,675, to 2019, Singapore Derby, L, MRC Jack Elliott H., 2d BRC Grand Prix S., Gr.3, 3d MRC Galilee Series Final H., L, Singapore TC Queen Elizabeth II Cup, L.

Magestique. Placed in Aust. Dam of-

Distant Rock (Medaglia d'Oro). 4 wins from 1400m to 1600m, A$182,080, SAJC IGA H., MRC Hilton Manufacturing H., 2d SAJC Adelaide Guineas, L, MRC Polytrack H.

Juggling Act. Champion Imported Horse in Philippines in 2011. 28 wins from 1100m to 2000m in Philippines, Philippine RC Diamond I S., Ambassador Eduardo M Conjuangco Jr Cup, Garnet I S. Sire.

Heart Strings (Danehill). 2 wins at 1200m, 1250m, STC AAMI Golden Slipper Day H., Wyndham Estate P., 2d AJC Arbogast H., 3d AJC Keith Mackay H., L. Producer.

Donnadane (Danehill). 2 wins at 1100m, 1250m, STC City of Blacktown RSL Club H., Deen Vat H., 2d QTC Transcontinental Hotel H., STC Triple M Slipper Saloon H., 3d AJC PJ Bell H., L. Dam of-

Modonna (More Than Ready). 3 wins-1 at 2-at 1100m, 1300m, A$148,000, AJC Coogee H., Captain Cook H., Dance Hero H., 2d BTC Golden S., L, AJC Arrowfield Stud H. Dam of-

So You Too (So You Think). 6 wins to 1300m, A$292,290, S$14,875, SAJC Seppeltsfield H., 3d SAJC Euclase S., Gr.2, MRC Italktravel S., L, SAJC Redelva S., L.

Winning Focus. Winner at 1200m, HKJC To Kwa Wan H., 3d HKJC Sky is the Limit H., Los Angeles H.