Trainer: Ciaron Maher & David Eustace
Incentives:
Lope De Vega X Majestic Sea – Colt
● Magic Millions Gold Coast Yearling Sale Lot: 92
● Purchased for $200,000
● Trainer: Ciaron Maher & David Eustace
​
Lope De Vega gets a Stakes winner 1 in 10 with his colts, that is better than just about any sire in Australia.
The chap who owns Lope De Vega loved him so much he has brought into him, as he said its exactly how the good ones look. Lope De Vega over Siyouni mares are 50% stakes horses.
Kia Oro is the second best farm on the complex for selling Group horses at a staggering 9% in the last 7 years. All the boxes are ticked here!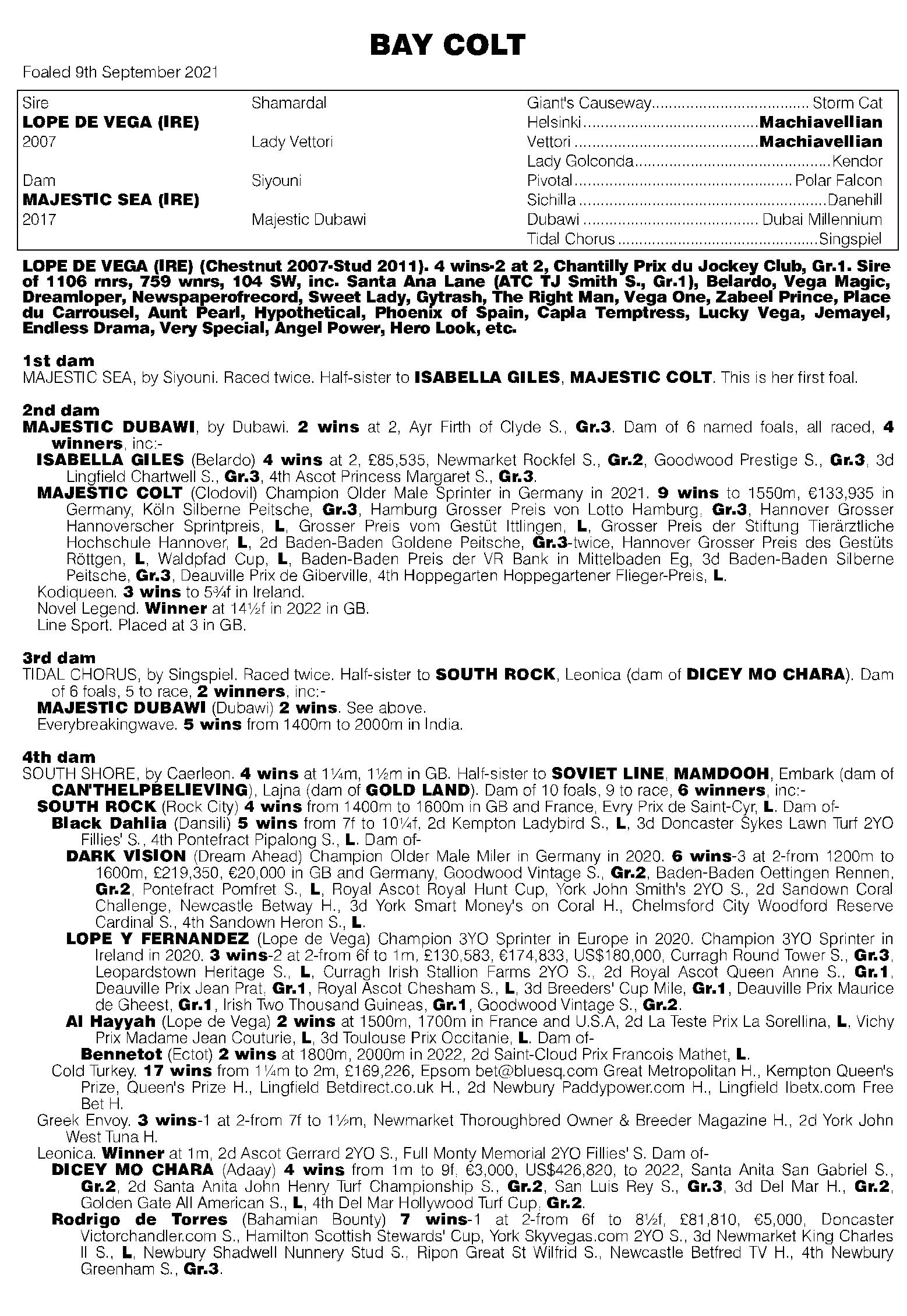 THE SIRE – LOPE DE VEGA (SNITZEL X SUNSET EXPRESS (SUCCESS EXPRESS))
SIRE OF 17 INDIVIDUAL GR.1 WINNERS ON 4 CONTINENTS
OVER 175 CAREER STAKES HORSES
OVER 50 BLACKTYPE PERFORMERS IN 2022 INCLUDING 4 GR.1 WINNERS
SIRE OF MULTIPLE BREEDERS' CUP WINNERS
Class, consistency and versatility. Those are the three words that spring to mind when thinking about the superstar sire Lope de Vega's progeny and if anything, his 2022 year has further enhanced those sentiments.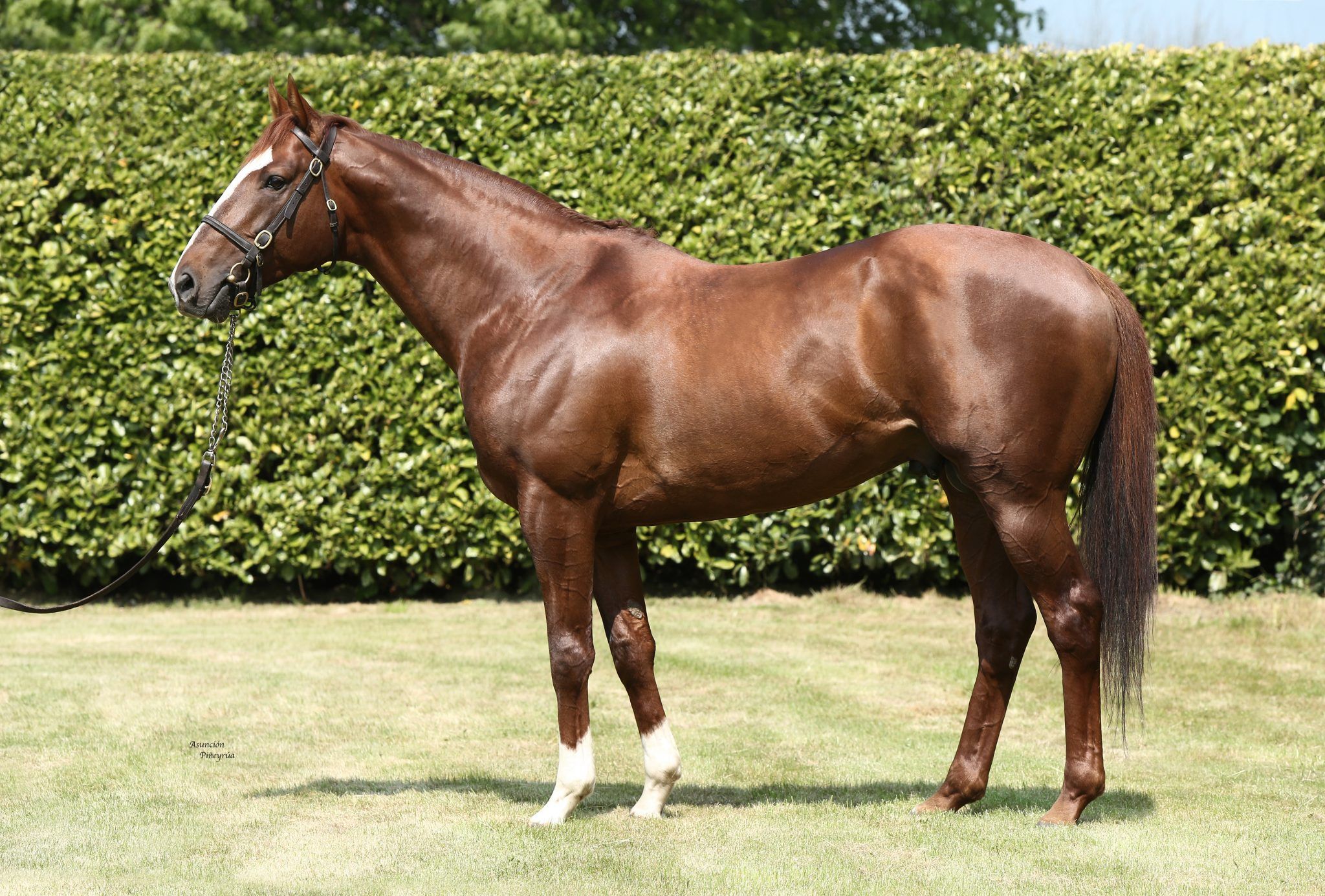 Class needs no explanation. All over the world Lope de Vega continues to sire brilliant racehorses and his daughters have carried all before them in France this season. Dreamloper has been the star with her runaway victories in the Prix d'Ispahan and Prix du Moulin, but hot on her heels came Sweet Lady's win in the Vermeille and Place du Carrousel's whirlwind finish to land the Prix de l'Opera on Arc Day.
Consistency is self-evident too. Lope de Vega has been near the top of the sires tables for many years now. There is no evidence that train is going to hit the buffers any time soon, with Silver Knott, Novakai, Gamestop, Lose Yourself and Quantanamera potential classic contenders in 2023.
What strikes me most, though, is Lope de Vega's versatility. Anywhere in the world, on any ground and over any trip, Lope de Vega produces topclass racehorses. The number of stallions that fit that bill can be counted on the fingers of one hand.
Ballylinch Stud stalwart Lope De Vega, the sire of 104 black type winners including 17 Group or Grade 1 scorers. They include Dreamloper, Lucky Vega, Phoenix Of Spain and Zabeel Prince pic.twitter.com/4AyKFma7Ga

— Racing Post Bloodstock (@rpbloodstock) January 13, 2023
Ongoing costs for a 5% share per month with Australian Bloodstock.
Horse is spelling (approx.) $80
Horse in training (approx.)  $270
Australian Bloodstock management fee: $22
* We do not make a mark up on training fees, so you only pay what the trainer charges!
Want info on your ownership experience? Head to our FAQ or send us an email.
Need a little time to pay your share off? We have Lay-by available!
Got a question?
Ring Luke Murrell on 0407 451 823, or Jamie Lovett on 0409 270 980.
OR SEND US A MESSAGE BELOW