Incentives:
SOLD!
Exceedance X Madotti – Colt
● Magic Millions Gold Coast Yearling Sale LOT 88
● Trainer: Kris Lees
That includes: The Horse, Magic Millions race series, Insurance, Travel, Unnamed Horse Transfer, Registration, Vetting and Commission.
Ongoing fees for a 5% share: We don't make a mark up on training fees, so you only pay what the trainer charges. All we charge is $22 per month to manage the horse. When the horse is spelling budget on $80 per month, when in full work and racing budget on $270.
🎥 WATCH BELOW TO HEAR LUKE MURRELL'S THOUGHTS ON WHY WE PURCHASED THE COLT!
Need some time to pay your share off? We have interest free Laybuy on this Colt!
25% up front – non refundable.
8 weeks to pay the balance.
Why we love him!
The Dam Madotti won over $1,000,000 on the track, and if you watch the replay she could have easily won both the 2yr old and 3yr old Magic Millions, such was her quality.
✔ Exceedance, one of the new sires.
✔ Exceedance had a huge turn of foot on the race track which is what we all look for.
✔ Kris Lees liked him that much he has put some family members into the horse.
✔ The dam of this horse Madotti, won over $1m in earnings.
✔ Madotti on the track ran 4th in the big 2yr old Magic Millions race and arguably should have won. She then showed her toughness and backed it up and should have won in her 3yr old season.
✔ The vendor thought he was a $250k horse at the sale prior and was disappointed with what we paid but needed to sell.
✔ Glenlogan farm produces higher than average stakes horses from this sale.
✔ Good tough horse this one, with good confirmation and power in all the right spots.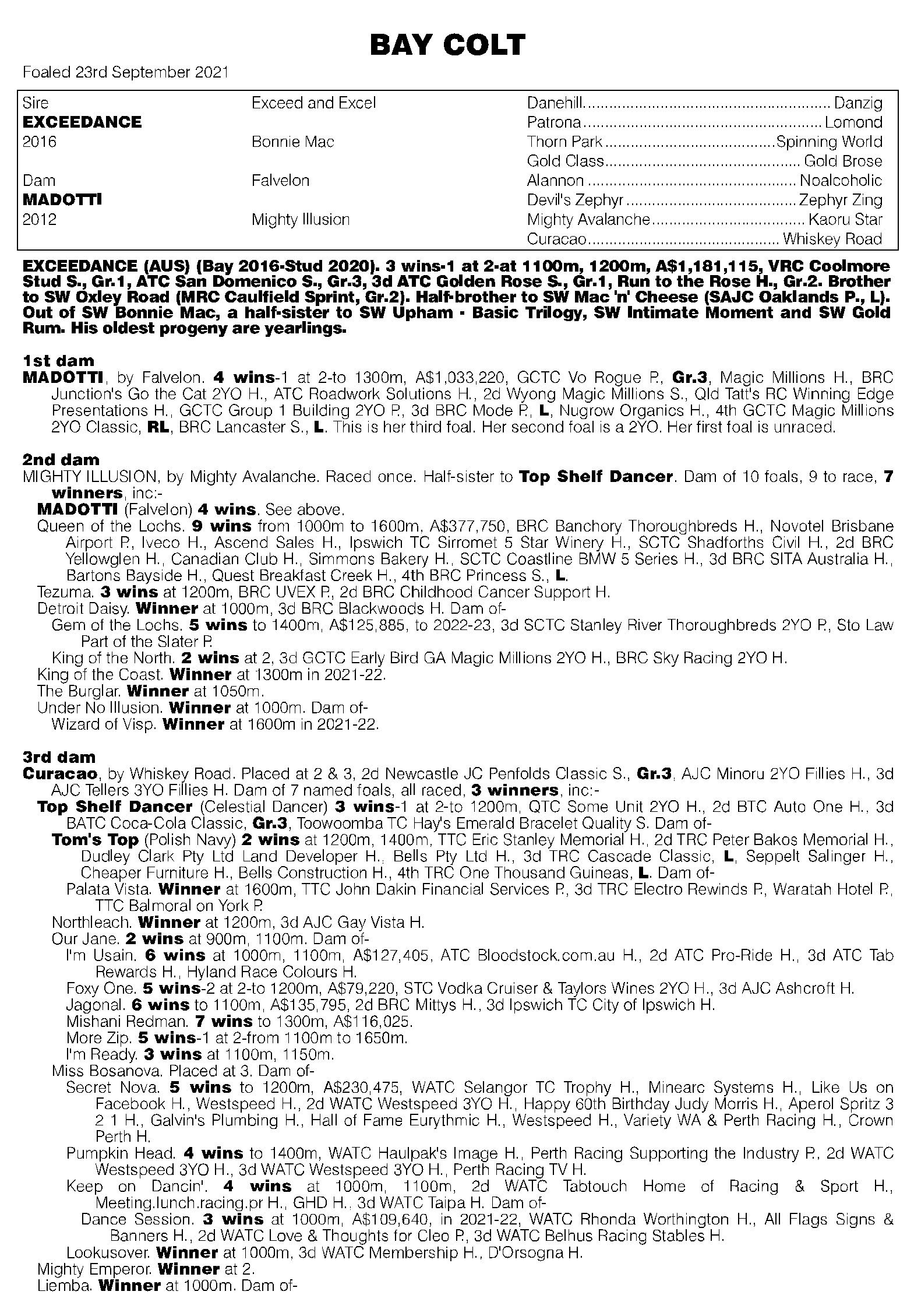 Ongoing costs for a 5% share per month with Australian Bloodstock.
Horse is spelling (approx.) $80
Horse in training (approx.)  $270
Australian Bloodstock management fee: $22
* We do not make a mark up on training fees, so you only pay what the trainer charges!
Want info on your ownership experience? Head to our FAQ or send us an email.
Need a little time to pay your share off? We have Lay-by available!
GOT A QUESTION?
RING LUKE MURRELL ON 0407 451 823.
OR JAMIE LOVETT ON 0409 270 980.
OR SEND US A MESSAGE BELOW