Trainer: Peter & Paul Snowden
Incentives:
Russian Revolution X Vanilla Gold – Filly
CALLING ALL LADIES! Our Magic Millions Ladies only horse is here!
● MAGIC MILLIONS GOLD COAST YEARLING SALE LOT: 515
● TRAINER: Peter & Paul Snowden
SHARE PRICE: 2.5% – $5,664 | 5% – $11,328
That includes: The Horse, Magic Millions race series, Insurance, Travel, Unnamed Horse Transfer, Registration, Vetting and Commission.
Ongoing fees for a 5% share: We don't make a mark up on training fees, so you only pay what the trainer charges. All we charge is $22 per month to manage the horse. When the horse is spelling budget on $80 per month, when in full work and racing budget on $270.
🎥 WATCH BELOW TO HEAR LUKE MURRELL'S THOUGHTS ON WHY WE PURCHASED THE FILLY!
LATEST UPDATE FROM Russian Revolution x Vanilla Gold (16/02/23). Outstanding update!
✔ Sire is on fire at present especially the last 2 weeks. We thought they would always take some time so it's good to see them kicking into gear.
✔ The dam was Stakes placed but she was spoken about much better than that- she was not without her own issues but she had talent.
✔ Biomechanics score here off the charts- of close to over 1300 horses she was in the top 10 in the entire sale!
✔ Lovely walk, good power behind the saddle and good girth.
✔ She also rated "7" on my unique trait scale which is a good sign.
✔ BOBS.
✔ Magic Millions.
Lots of two year olds in the family- should run early
This wonderful filly is a ladies only horse as she looks an early runner. Peter and Paul Snowden trained the sire and both liked this filly a lot.
The first foal out of the Dam, by SIYOUNI, is with Gillian Henrich, and has a HUGE WRAP on it.
This horse again was in the Top 6 horses in the sale Biomechanically. Historically buying these elite Biomechanical horses has proven a gold mine, so she speaks for herself.
Lots of 2yr old winners and good winners in the family, she is just pure quality this girl.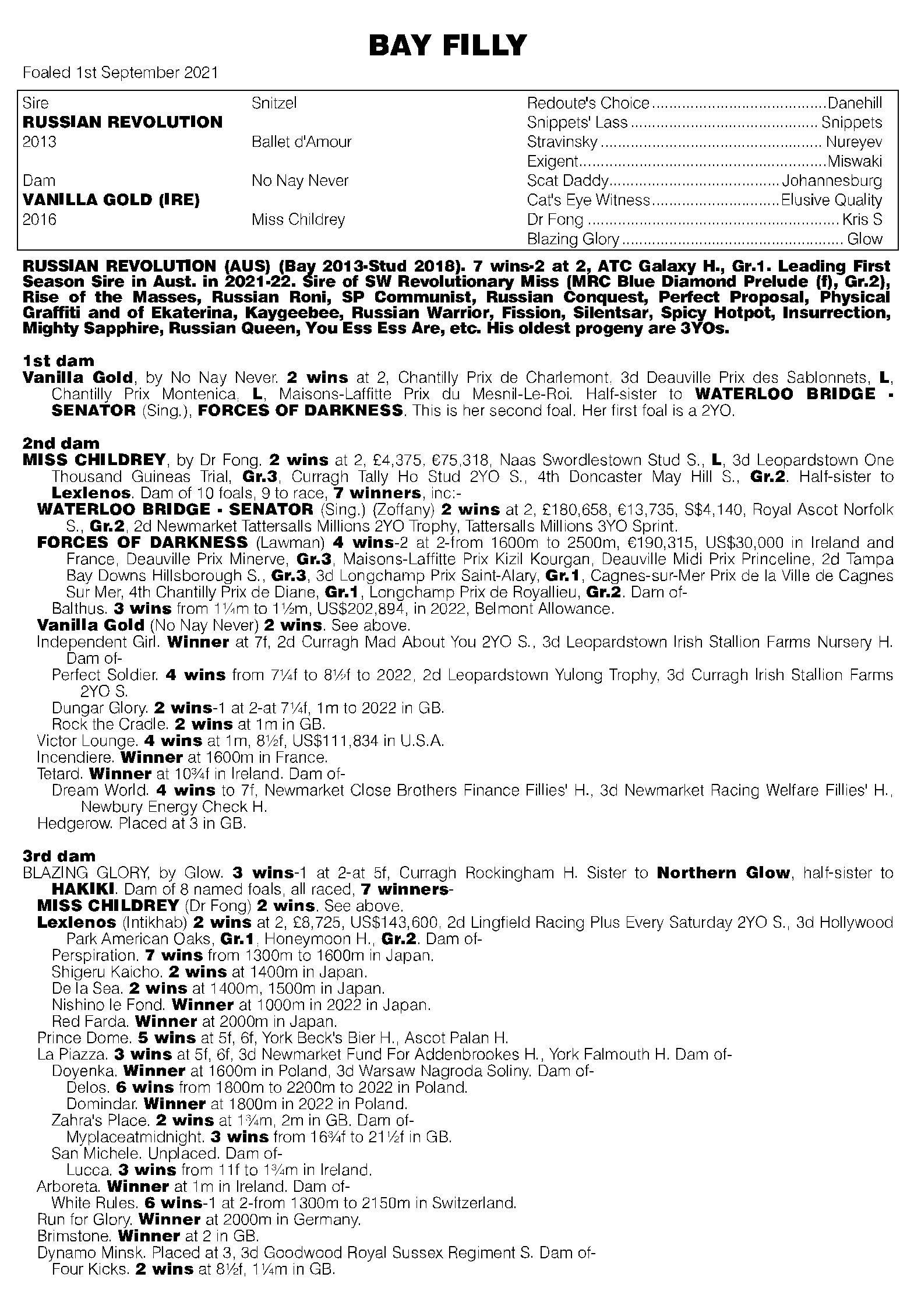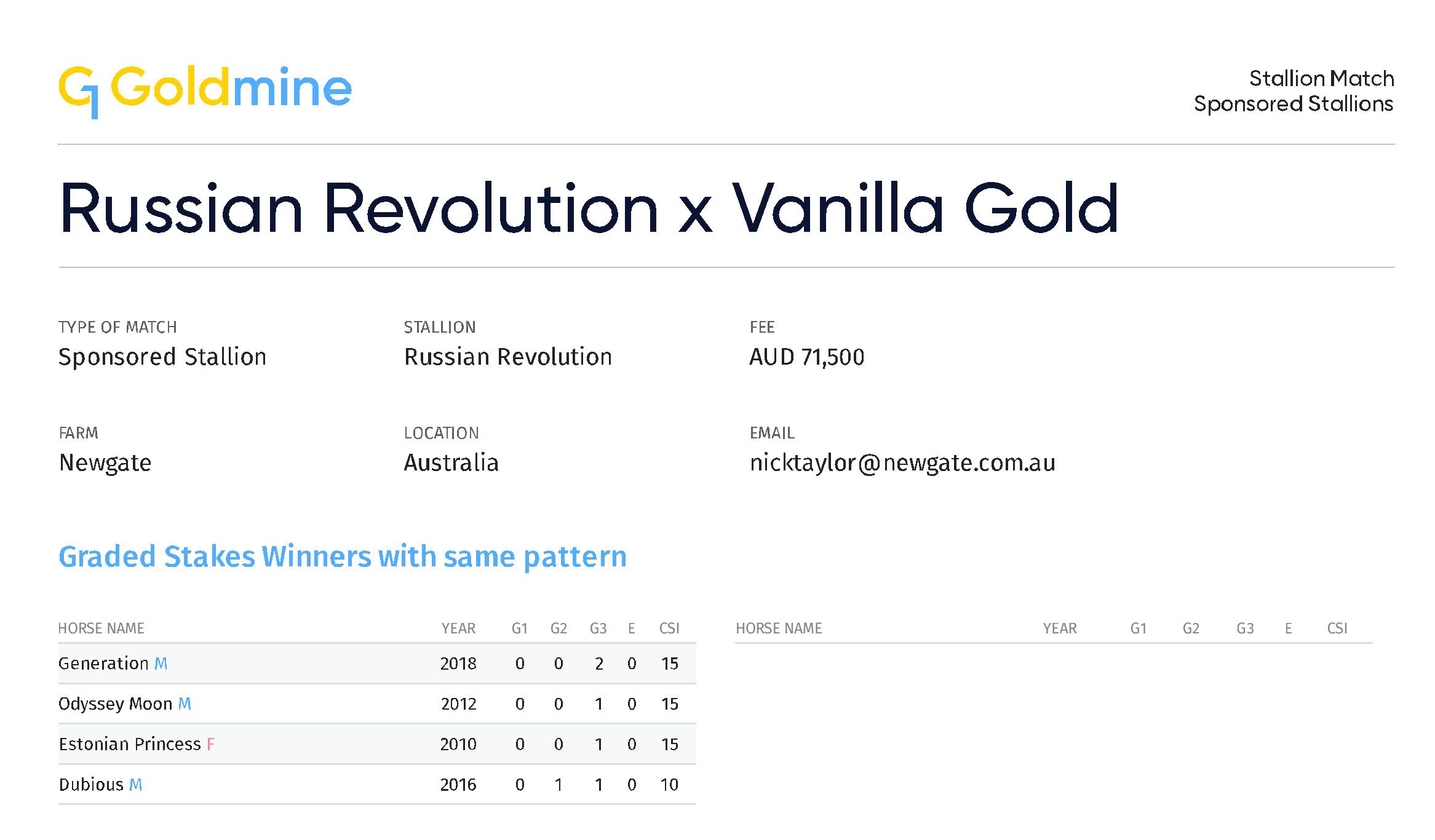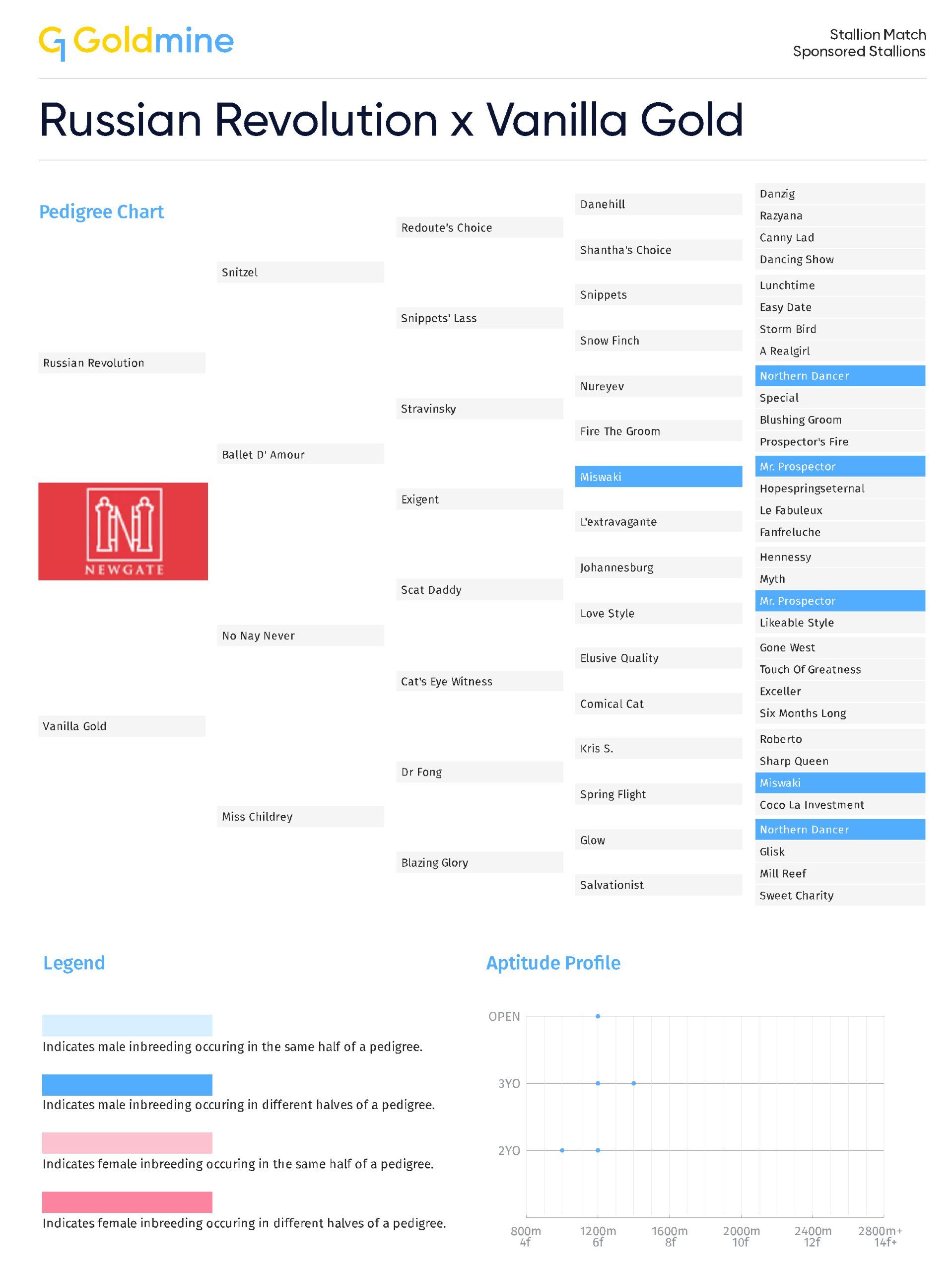 THE SIRE – RUSSIAN REVOLUTION x VANILLA GOLD (Snitzel x Ballet D'Amour )Stravinsky))
CHAMPION 1st Season Sire 2021-2022. In this decade, ONLY I Am Invincible, Northern Meteor & Russian Revolution have led by both winners & earnings
Multiple Group 1 Winner of the Oakleigh Plate & Galaxy – joining his great grandsire Snippets as the only two horses in HISTORY to complete the Galaxy/Oakleigh Plate double
Progeny Include:

Group 1 Blue Diamond 2nd, Group 1 Caulfield Thousand Guineas 2nd & Group 2 Blue Diamond Prelude winner REVOLUTIONARY MISS
Leading Golding Slipper Candidate and 2YO MAGIC MILLIONS CLASSIC 2nd RUSSIAN CONQUEST
Group 3 ATC Pago Pago stakes winner RISE OF THE MASSES
Group 2 Callander-Presnell Stakes 2nd & Listed Dulcify Stakes 2nd COMMUNIST
Listed Tasmanian Guineas Winner RUSSIAN RONI

Defeated champion sprinter Redzel in the Group 1 Galaxy in just his 6th career start
7 wins from 9 starts at stakes level and above
Won the Oakleigh Plate just like his sire Snitzel and great grandsire Snippets
"He's absolutely one of the quickest horses we have ever trained." – Peter Snowden
First in-foal mares made: $1,750,000; $700,000; $305,000; $280,000; etc
Yearlings have sold for $850,000, $600,000, $560,000, $525,000, $425,000, $425,000, $400,000, $375,000, $325,000, etc.
Watch Russian Revolution win the Group 1 Oakly Plate!
Ongoing costs for a 5% share per month with Australian Bloodstock.
Horse is spelling (approx.) $80
Horse in training (approx.)  $270
Australian Bloodstock management fee: $22
* We do not make a mark up on training fees, so you only pay what the trainer charges!
Want info on your ownership experience? Head to our FAQ or send us an email.
Need a little time to pay your share off? We have Lay-by available!
Got a question?
Ring Luke Murrell on 0407 451 823.
Or Jamie Lovett on 0409 270 980.
OR SEND US A MESSAGE BELOW