Incentives:
● MAGIC MILLIONS GOLD COAST YEARLING SALE LOT: 834
● PURCHASED FOR $385,000 INC GST
● TRAINER: Kris Lees
Just look at her pedigree! We feel if she doesn't race at all she will still be worth what we have paid, she is a beauty.
Biomechanics she was in the Top 15 in the sale, which is a great bonus.
THE SIRE – ALABAMA EXPRESS (Redoute's Choice x Lago Ovation (Encosta De Lago))
The combination of two Australian stallion breedshapers in the sireline of Alabama Express makes him an exciting sire prospect.
The sire of Alabama Express, Redoute's Choice, is an Australian phenomenon, peerless in his achievements at stud and continues to build his legacy through exceptional sons and daughters.
Trained by Mike Moroney, Alabama Express faced some of the best horses in the country under a tough run at Caulfield when he took out the WFA G1 C F Orr Stakes.
"He had the toughest run in the race and still won," said trainer Mike Moroney. "When I saw he couldn't get in, I thought it was game over, but it just shows you how good this horse is."
"His father [Redoute's Choice] won this race and he's more like dad than any other horse I've seen."
"If you can replicate even half of what his dad has done, he's going to be a successful sire."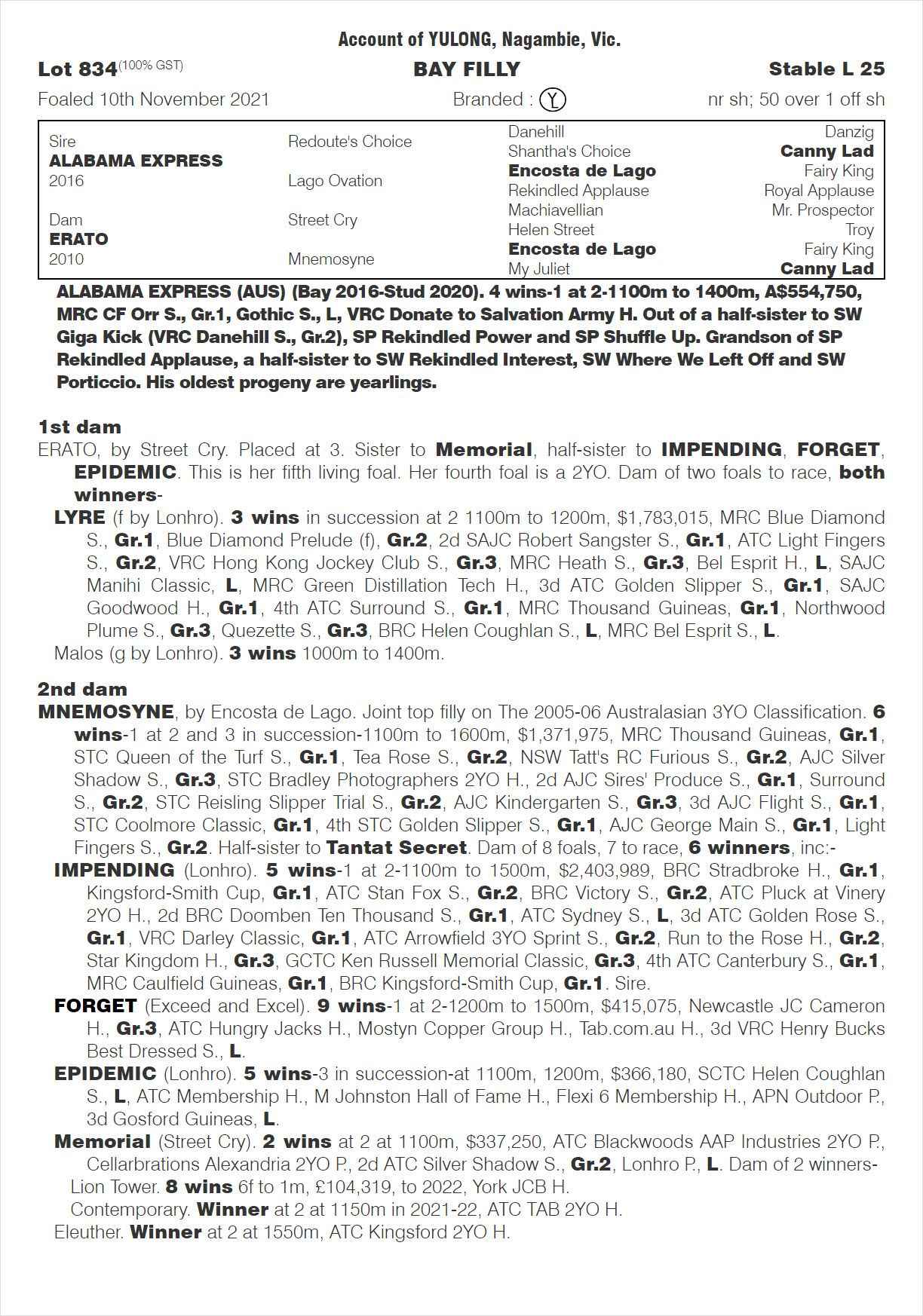 Ongoing costs for a 5% share per month.
Horse is spelling (approx.) $80
Horse in training (approx.)  $270
Australian Bloodstock management fee: $22
* We do not make a mark up on training fees, so you only pay what the trainer charges!
Want info on your ownership experience? Head to our FAQ or send us an email.
Need a little time to pay your share off? We have Lay-by available!
Got a question?
SEND US A MESSAGE