Incentives:
Owners: Jim Ashcroft , Matthew Booth, Jane and Jason Bower, Shaun Boyd, Max Capp, Glen Collis, Louise Ellis, Gary Felstead, Ross Hampton, John Hinton, ian.rix ian.rix, Dewayne Kingdom, Graeme Morley, Todd Newman, Shelly O'Bryan, Bill Parker , Blake Parker, Tom Pender, Sean Sutcliffe, Blake Whyte, Dave Wynne, SYN Australian Bloodstock (Mgr: Luke Murrell)
● Gold Coast Magic Millions National Yearling Sale: Lot 1442
● Purchased for $33,000 inc GST
● Trainer: Kris Lees
​
WHY WE LOVE HER!
Of this most recent Magic Millions sale, via our historical research such as stud and breeding research we have a Group of horses that have fit our specific criteria.
The first of them is Lot 1442 From Arrowfield Stud. She is by The Deep Impact Stallion REAL STEEL who on our ratings was the equal ability to WINX!, he was a superstar.
The dam of this filly SHABAIA was by Redoute's Choice and was unraced.
This filly was graded an 8 out of 10 which is very high and it's only for the fact she was by a new sire we where able to purchase her for the $33,000.
Interestingly her Dams mother was the Group 1 winning mare BRAZILIAN PULSE. That family is being bred right up so there is a chance for future improvement in the pedigree which would increase this fillies value.
She is very strong and whilst she will need some more time to grow like all horses her age, she looks and moves like a city grade horse.
REAL STEEL x SHABAIA Parade video.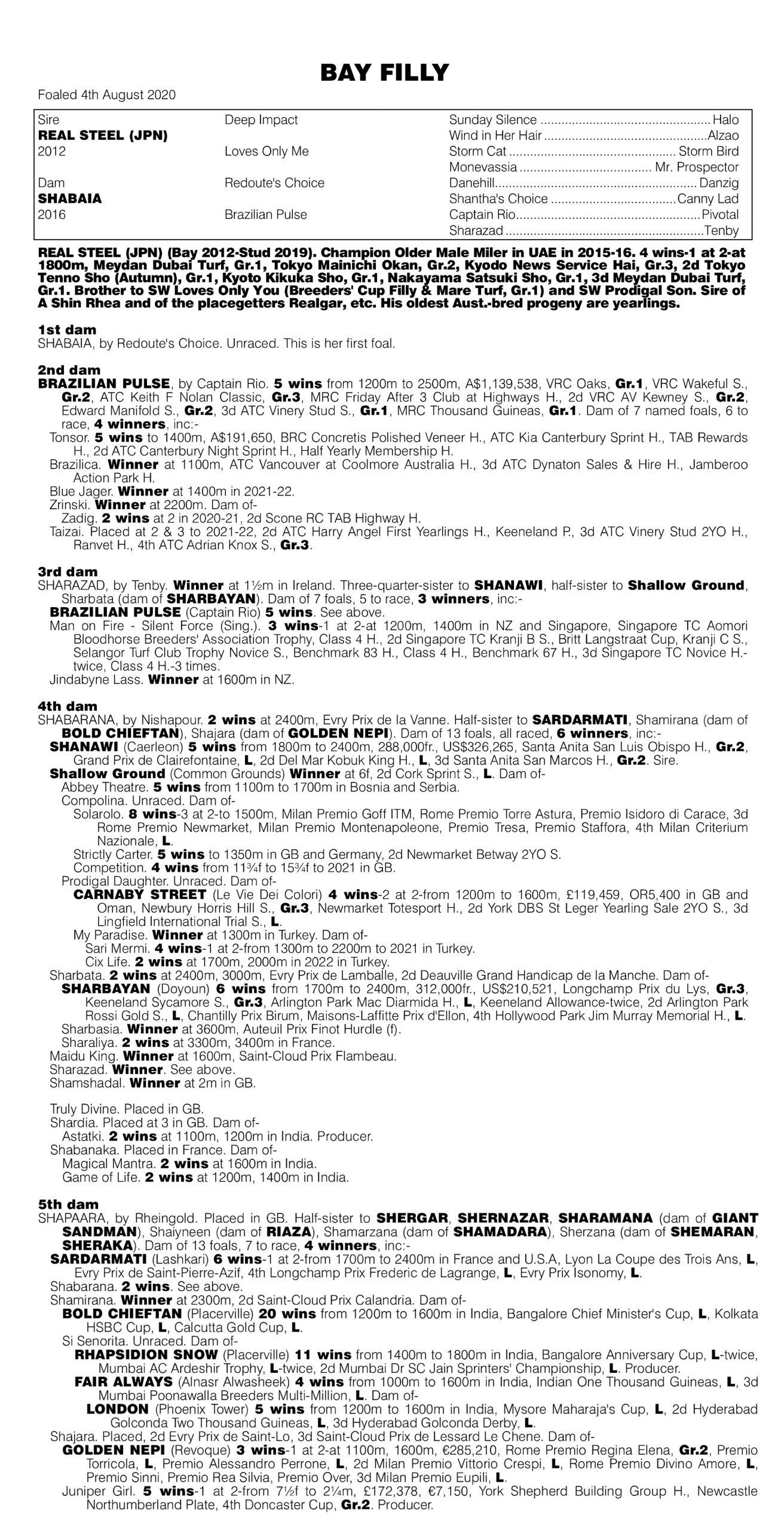 THE SIRE – REAL STEEL (Deep Impact x Loves Only Me)
| | | |
| --- | --- | --- |
| Ongoing costs | 2.5% share per month | 5% share per month |
| Horse is spelling (approx.) | $30 | $60 |
| Horse in training (approx.)  | $110 | $220 |
| Management fee | $22 | $22 |
Want info on your ownership experience? Head to our FAQ or send us an email.
Need a little time to pay your share off? We have Lay-by available!
Got a question?
SEND US A MESSAGE