Incentives:
This filly is a very rare 20/20 Match on the popular Group 1 Goldmine breeding software, which means based on past crosses is superior and produces a lot of Group Horses!
WHY WE BOUGHT HER
This filly was recently purchased from Inglis and is a filly we really really like! Obviously we raced the stallion and we believe that Tosen Stardom was a much better horse than we saw in Australia despite him winning multiple Group 1 events.
On our ratings he was the best imported horse ever to arrive in Australia but due to issues and niggling injuries he only ever raced at about 75% of his ability, which obviously was still extremely high. Tosen Stardom was at the time the most expensive ever yearling sold in Japan such was his make up!
Being the most expensive ever Deep Impact yearling he was favourite for Japan's equivalent to our Golden Slipper but he was a late scratching. Whilst he was a Group 1 winner over 1600 and 2000, in our opinion this stallion will throw early runners.
Did you know that Deep Impact throws more Group 2yr old winners than Snitzel?
THE SIRE – Tosen Stardom (Deep Impact x Admire Kirameki)
A son of Champion sire, Deep Impact, Tosen Stardom is a massive coup for Victorian breeders, and with the support of his owners, Northern Farm's Mr Yoshida & Mr Shimakawa, Australian Bloodstock and Woodside Park Stud, the dual G1 winner covered a stellar first book of mares.
One of only a handful of sons of Deep Impact, the sire of 40 individual G1 winners, to stand in Australia, Tosen Stardom has the added advantage of being one of only two dual Australian G1 winners by his sire, having raced under the local conditions and defeated the best.
"He will suit owners and breeders that strive for immediate success. Being a precocious two-year-old, he is what the local breeders want, and we have him on our doorstep." stated James Price of Woodside Park.
"You only have to watch his Emirates Stakes win, and hear the excitement resonating in Matt Hill's voice saying "Tosen Stardom drops from the sky", to know that he is a serious, serious racehorse, and that you can expect the same success at stud."
"Tosen Stardom's pedigree offers the best bloodlines in the world, through his Champion sire, Deep Impact and in his strong female family. He will provide a highly sort after international outcross free from Danzig bloodlines."
THE DAM – Childhood
(Lonhro x Lavender Baby)
We purchased the Dam CHILDHOOD late in her career but unfortunately she had an injury and never fulfilled her full potential. In her short career she showed she was an exceptionally fast daughter of Lonhro and was Group quality.
She was actually sent to America and she was the work mate for one of the best fillies in the world at the time in Lady Aurelia and actually worked as good as her. Wesley Ward commented "she was one of the fastest horses I've put a bridle on and her work at home showed she is capable of being Group 1 standard here, but a niggling back injury never was fixed so we retired her".
SUMMARY
The pedigree is constantly improving and as you can see it is a real two year old pedigree and we think this filly, once she fully matures, certainly has the attributes and physical make up to be a good horse. If we had to rate the filly out of 10 she would be an 8.5 to 9 such is our confidence in her.
This filly was bred at our farm in partnership with a group of mates but unfortunately they can't afford the upkeep and hence the decision was made to put her through the ring unreserved. Given we know so much about the horse and are very pleased with her we thought she was a must buy up to $150,000, which is what we valued her at based on her pedigree and physical type.
Thankfully for us with the nature of the online sales we were able to buy her cheaper although there was still stiff competition given that her pedigree is exceptional and as a result are offering shares for those interested. 
She ticks all our boxes and value for money is a no brainer. I'm a big fan of buying horses from dams who are fast and importantly had stakes ability, and stallions don't get any better bred than Tosen Stardom.
If you are prepared to be patient then this is the horse to buy into as we have purchased her well below market value and she has some quality.
We really like her as does Kris Lees who has taken a share himself.
She still has her winter coat on and is still growing but we feel the competition for these horses will be strong next year when they go through the ring, and being able to buy such a well bred and athletic horse now gives us a head start!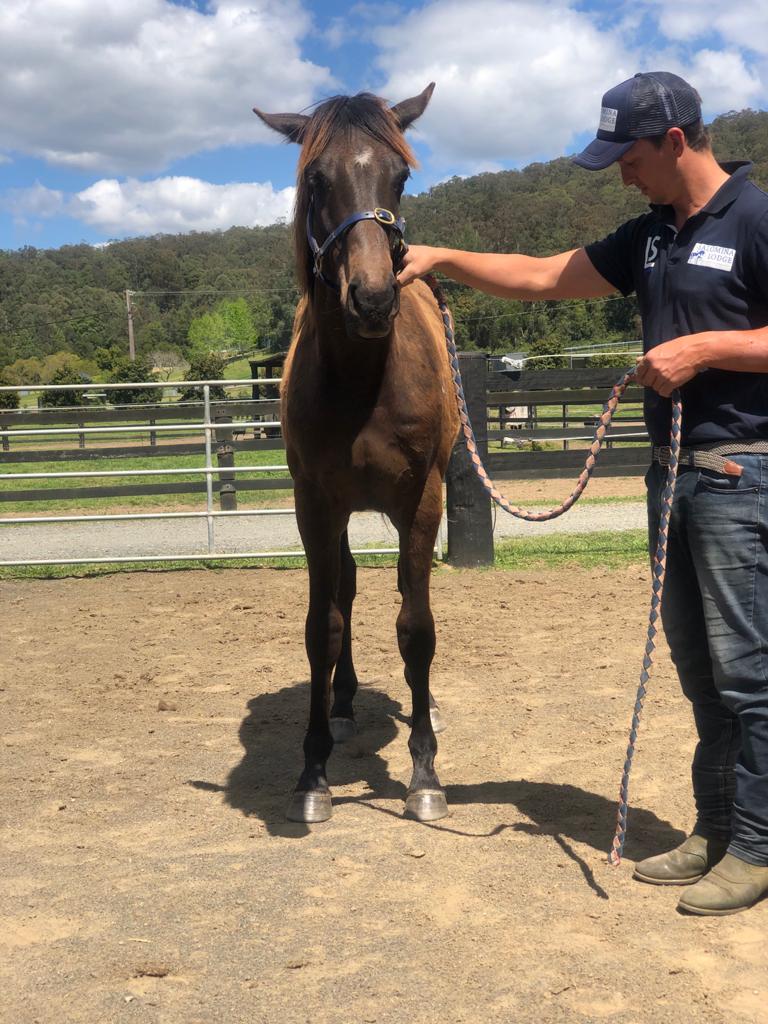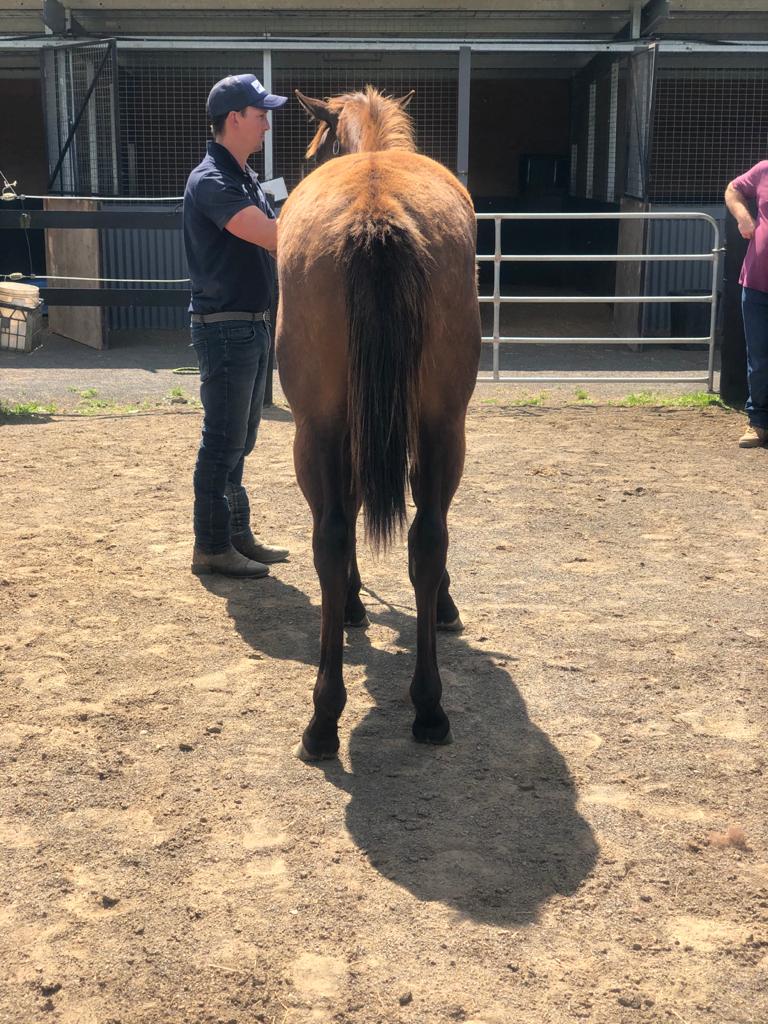 SOLD!
| | | |
| --- | --- | --- |
| Ongoing costs | 2.5% share per month | 5% share per month |
| Horse is spelling (approx.) | $30 | $60 |
| Horse in training (approx.)  | $110 | $220 |
| Management fee | $22 | $22 |
Want info on your ownership experience? Head to our FAQ or send us an email.
Need a little time to pay your share off? We have Lay-by available!
Got a question?
SEND US A MESSAGE
BROWN FILLY (AUS)

Foaled 16th August 2019

---

| | | | |
| --- | --- | --- | --- |
| Sire | Deep Impact | Sunday Silence | Halo |
| TOSEN STARDOM (JPN) | | Wind in Her Hair | Alzao |
| 2011 | Admire Kirameki | End Sweep | Forty Niner |
| | | Every Whisper | Northern Taste |
| Dam | Lonhro | Octagonal | Zabeel |
| CHILDHOOD (USA) | | Shadea | Straight Strike |
| 2014 | Lavender Baby | Rubiano | Fappiano |
| | | Mighty Milk | Hero's Honor |

---

TOSEN STARDOM (JPN) (Bay 2011-Stud 2018). 7 wins-2 at 2-1600m to 2000m, A$2,0650,000, 12,975,300¥, VRC Emirates S., Gr.1, MRC Toorak H., Gr.1, Hanshin Challenge Cup, Gr.3, Kyoto Kisaragi Sho, Gr.3, Cassiopeia S., L, Kyoto Nisai S., L, 2d ATC Ranvet S., Gr.1, MRC Futurity S., Gr.1-twice. Brother to SW Centelleo (Nakayama Sankei Sho All Comers, Gr.2). Half-brother to SP Neo Stardom. His oldest progeny are yearlings.

1st dam

CHILDHOOD, by Lonhro. 2 wins at 2, Naas Birdcatcher Premier Nursery S. Half-sister to BABY J, LAUREATE CONDUCTOR, LAVENDER CHRISSIE, Gossamer Wings, Que Posse. This is her first foal.

2nd dam

LAVENDER BABY, by Rubiano. 8 wins from 6f to 8½f, US$139,830 in U.S.A. Half-sister to Big Will. Dam of 10 named foals, 7 to race, all winners, inc:-

BABY J (J be K). 4 wins-1 at 2-at 5½f, 6f, US$324,333, Belmont Victory Ride S., Gr.3, Catinca S., L, 2d Belmont Matron S., Gr.2, 3d Saratoga Schuylerville S., Gr.3, Aqueduct Interborough S., L, Garland of Roses S., L. Producer.

LAUREATE CONDUCTOR (Bernstein). 12 wins from 1100m to 1800m, US$297,114 in U.S.A., Canada and Panama, Monmouth Choice S., L, 3d Arlington Park Secretariat S., Gr.1, 4th Woodbine Northern Dancer Turf S., Gr.1.

LAVENDER CHRISSIE (Scat Daddy). 4 wins-1 at 2-from 6f to 9f, US$281,093, Zia Park Oaks, L.

Gossamer Wings (Scat Daddy). Winner at 2, 2d Royal Ascot Queen Mary S., Gr.2, Curragh S., L, 3d Doncaster Flying Childers S., Gr.2, Curragh Irish Stallion Farms 2YO Fillies S., 4th Newmarket Duchess of Cambridge S., Gr.2.

Que Posse (Posse). 7 wins to 7f, US$315,329, 3d Belmont Diablo S., L, Remington Park Sprint Cup, L, 4th Sam Houston Park Champion Energy Services S., L.

Childhood. 2 wins. See above.

Amaze. 3 wins from 6f to 1m in U.S.A.

Diamond Baby. Unraced. Dam of-

Shilah Baby. 2 wins at 5f, 6f, US$143,433, to 2020 in U.S.A.

3rd dam

MIGHTY MILK, by Hero's Honor. 5 wins, US$96,199, 4th Arlington Park Anita Peabody H., L, Illinois Oaks, L. Half-sister to HOT BRUSH, BLAZING HOT. Dam of 6 named foals, 5 to race, all winners, inc:-

Big Will (Peaks and Valleys). 5 wins-1 at 2-from 1m to 9f, US$171,010, 2d Turfway Park Presidents S., L, 4th Canterbury Park Minneapolis S., L.

4th dam

HOT MILK, by Restless Native. 5 wins-3 at 2, US$129,276, Belmont Astoria S., L, Monmouth Colleen S., L, 2d Belmont Sweet Tooth S., L, 3d Keystone Cotillion H., Gr.2, 4th Belmont Wanda S., L. Sister to NUIT D'AMOUR (dam of ROUSE THE LOUSE). Dam of 12 named foals, 10 to race, 9 winners, inc:-

HOT BRUSH (Broad Brush). 6 wins-2 at 2-from 6f to 9½f, US$364,808, Pimlico John B Campbell H., Gr.3, Philadelphia Park Pennsylvania Futurity, L, 2d Laurel Baltimore Breeders' Cup H., Gr.3, Philadelphia Park Worthington S., L, Admiral's Image S., L, 3d Pimlico Special H., Gr.1, Fair Grounds Whirlaway H., L, Laurel Broad Brush H., L, 4th Fair Grounds Explosive Bid H., Gr.3.

BLAZING HOT (Irish River). 2 wins at 2, US$96,170, Woodbine Summer S., L. Dam of-

Holy Lightning. Placed at 2 in U.S.A. Dam of-

GOING BALLISTIC (Lite the Fuse). 7 wins-3 at 2-from 7½f to 9f, US$1,195,567, Louisiana Downs Super Derby, Gr.2, Remington Park Oklahoma Derby, L, Governor's Cup, L, Lone Star Park USA S., L, Remington MEC Mile S., L, Retama Park El Joven S., L, 2d Arlington Park American Derby, Gr.2, Sam Houston Park John B Connally Turf H., Gr.3, Louisiana Downs Juvenile S., L, Prairie Meadows H., L, Sam Houston Park Maxxam Gold Cup, L, 3d Arlington Park Secretariat S., Gr.1, Hawthorne Gold Cup, Gr.2, Oaklawn Park Razorback H., Gr.3, Prairie Meadows Iowa Derby, L, Remington Park Governor's Cup, L, Lone Star Park Grand Prairie Turf Challenge S., L, Prairie Meadows Jim Rasmussen Memorial S., L, 4th Churchill Downs Kentucky Jockey Club S., Gr.2, Hawthorne Gold Cup, Gr.2, Lone Star Park Texas Mile S., Gr.3, Dallas Turf Cup, Gr.3, Oaklawn Park Rebel S., Gr.3, Remington Park Governor's Cup, L, Zia Park Distance Championship H., L, Zia Park Veteran S., L.

SILVERETTE (Street Sense). 6 wins to 6½f, US$397,802, Parx Racing Turf Amazon H., L, Saratoga Caress S., L, Monmouth Red Cross S., L, Belmont Allowance, 2d Belmont Gold Princess S., L, Monmouth Blue Sparkler S., L, 4th Keeneland Franklin County S., L.