Incentives:
This filly, similar to our other Tosen Stardom filly is a very rare 20/20 match on the Group 1 Goldmine breeding software, meaning past crosses produce a lot of Group Horses!
WHY WE BOUGHT HER
This filly was recently purchased from Inglis and is a filly we really really like! Obviously we raced the stallion and I can tell you that Tosen Stardom was a much better horse than we saw in Australia despite him winning multiple Group 1 events.
On our ratings he was the best imported horse ever to arrive in Australia but due to issues and niggling injuries he only ever raced at about 75% of his ability, which obviously was still extremely high. Tosen Stardom was at the time the most expensive ever yearling sold in Japan such was his make up!
Being the most expensive ever Deep Impact yearling he was favourite for Japan's equivalent to our Golden Slipper but he was a late scratching. Whilst he was a Group 1 Winner over 1600 and 2000 this stallion will throw early runners.
Did you know that Deep Impact throws more Group 2yr old winners than Snitzel?
THE SIRE – Tosen Stardom (Deep Impact x Admire Kirameki)
A son of Champion sire, Deep Impact, Tosen Stardom is a massive coup for Victorian breeders, and with the support of his owners, Northern Farm's Mr Yoshida & Mr Shimakawa, Australian Bloodstock and Woodside Park Stud, the dual G1 winner covered a stellar first book of mares.
One of only a handful of sons of Deep Impact, the sire of 40 individual G1 winners, to stand in Australia, Tosen Stardom has the added advantage of being one of only two dual Australian G1 winners by his sire, having raced under the local conditions and defeated the best.
"He will suit owners and breeders that strive for immediate success. Being a precocious two-year-old, he is what the local breeders want, and we have him on our doorstep." stated James Price of Woodside Park.
"You only have to watch his Emirates Stakes win, and hear the excitement resonating in Matt Hill's voice saying "Tosen Stardom drops from the sky", to know that he is a serious, serious racehorse, and that you can expect the same success at stud."
"Tosen Stardom's pedigree offers the best bloodlines in the world, through his Champion sire, Deep Impact and in his strong female family. He will provide a highly sort after international outcross free from Danzig bloodlines."
THE DAM – Clinquant (Teofilo x Powder Paint)
The mare Clinquant was physically a stunning type and was raced by Godolphin. On her race record she had produced some brilliant times and we always thought she was at least a Listed level type of mare.
She ran out of her skin but did a tendon when btn 0.4 len at Canterbury in her last start.
When the mare came up for sale we purchased her as buying out of fast and good quality mares has been a proven formula of success.
SUMMARY
From day one this filly was as good physically as anything on the farm and she is part owned by a group of mates who due to the Covid situation have decided they need to sell to free up their financial commitments.
As a result she was put through the recent Inglis sale and, given we know the mother had a lot of ability before injury cut her career short, as well as how good a physical type this filly is, we felt she was worth $70-80K.
As a result we were pleased to purchase her for less than that and, given she has some nice stoutness, we feel she will suit Ciaron Maher and his training set-up perfectly.
Being a yearling she still has plenty of developing to do but if you want a great physical type out of parents who had serious ability then we would highly recommend this well bred filly.
As you can see she is also a very rare matching breeding wise and she is a  20/20 match which is a great sign as it means she has been perfectly bred.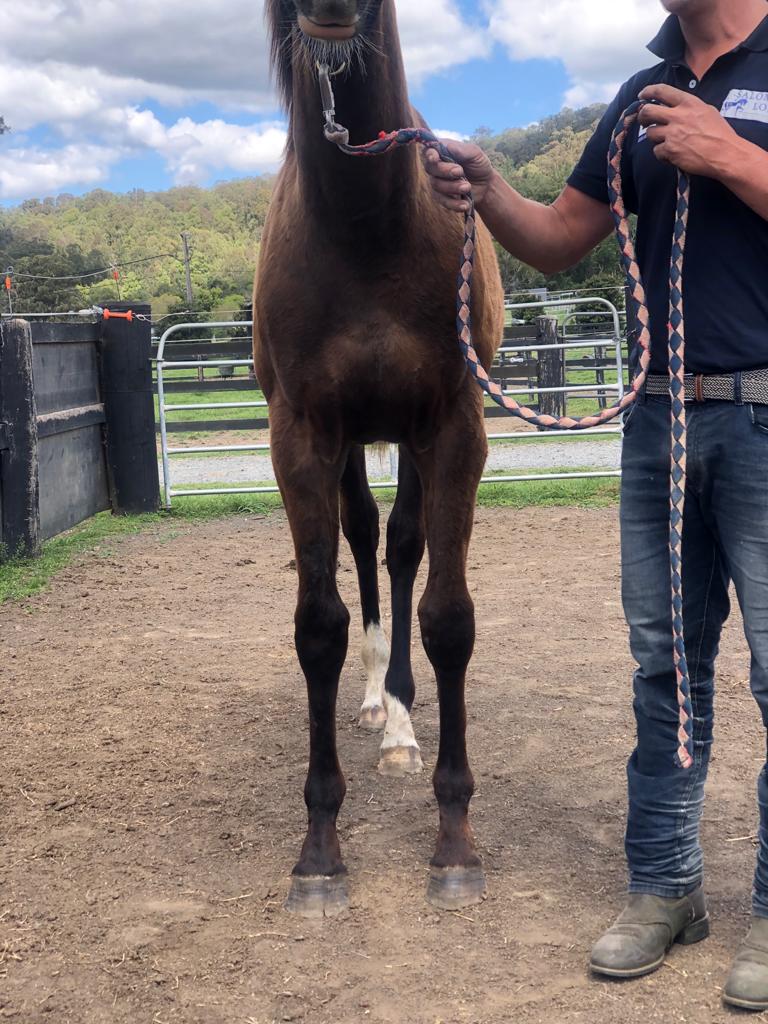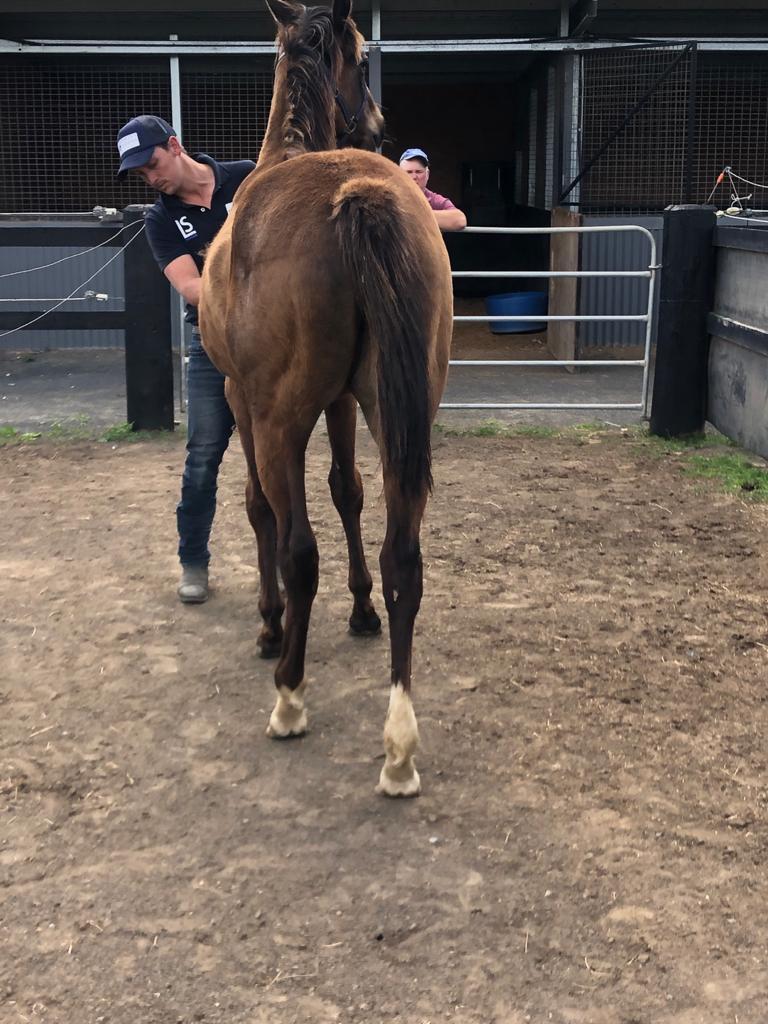 SOLD!
| | | |
| --- | --- | --- |
| Ongoing costs | 2.5% share per month | 5% share per month |
| Horse is spelling (approx.) | $30 | $60 |
| Horse in training (approx.)  | $110 | $220 |
| Management fee | $22 | $22 |
Want info on your ownership experience? Head to our FAQ or send us an email.
Need a little time to pay your share off? We have Lay-by available!
Got a question?
SEND US A MESSAGE
BROWN FILLY (AUS)

Foaled 6th October 2019

---

| | | | |
| --- | --- | --- | --- |
| Sire | Deep Impact | Sunday Silence | Halo |
| TOSEN STARDOM (JPN) | | Wind in Her Hair | Alzao |
| 2011 | Admire Kirameki | End Sweep | Forty Niner |
| | | Every Whisper | Northern Taste |
| Dam | Teofilo | Galileo | Sadler's Wells |
| CLINQUANT (AUS) | | Speirbhean | Danehill |
| 2012 | Powder Paint | Mark of Esteem | Darshaan |
| | | Flawless Image | The Minstrel |

---

TOSEN STARDOM (JPN) (Bay 2011-Stud 2018). 7 wins-2 at 2-1600m to 2000m, A$2,0650,000, 12,975,300¥, VRC Emirates S., Gr.1, MRC Toorak H., Gr.1, Hanshin Challenge Cup, Gr.3, Kyoto Kisaragi Sho, Gr.3, Cassiopeia S., L, Kyoto Nisai S., L, 2d ATC Ranvet S., Gr.1, MRC Futurity S., Gr.1-twice. Brother to SW Centelleo (Nakayama Sankei Sho All Comers, Gr.2). Half-brother to SP Neo Stardom. His oldest progeny are yearlings.

1st dam

CLINQUANT, by Teofilo. Placed at 2 & 3, 3d ATC McGrath P. This is her second foal. Dam of one foal to race-

Pelgrave (f. by Super One). Placed at 3 in 2020-21 in Aust.

2nd dam

POWDER PAINT, by Mark of Esteem. 2 wins at 7f, 1m, 2d Curragh Summer Fillies H. Three-quarter-sister to DARNAY, Imitation (dam of AINIPPE). Dam of 6 named foals, 4 to race, 2 winners, inc:-

Viking Warrior. 4 wins at 7f in GB.

Oils. 3 wins to 1300m in Aust.

Eye One. Unraced. Dam of-

Once a Week. Winner at 1200m in 2019-20, Southland RC Central Southland Freight H.

Determine to Win. 3 wins at 1100m, 1400m in Malaysia.

Justa Boy Bullseye. 2 wins at 2100m in 2019-20 in NZ.

3rd dam

Flawless Image, by The Minstrel. Winner at 2, 2d Leopardstown Ballyogan S., Gr.3, Phoenix Sprint S., Gr.3, Curragh Waterford Testimonial S., L, 3d Curragh Greenlands S., Gr.3, Phoenix Park Flying Five S., L. Sister to Faultless Singer, half-sister to Citysalt, January Moon (dam of LUNAR SOVEREIGN). Dam of 12 foals, 8 to race, 4 winners, inc:-

DARNAY (Darshaan). 3 wins-1 at 2-at 1400m, 1600m, US$245,174, 10,878Dhs in GB, Ireland and U.A.E, Curragh International S., Gr.2, Newmarket Westley 2YO S., 2d Longchamp Prix Jean Prat, Gr.1, Goodwood Celebration Mile S., Gr.2, Rockingham New Hampshire Sweepstakes H., Gr.3, Newmarket S., L, 3d Goodwood Sussex S., Gr.1, Newbury Hungerford S., Gr.3, York Michael Seely Memorial Glasgow S. Sire.

Imitation. Unraced. Dam of-

AINIPPE (Captain Rio). 4 wins-2 at 2-to 7f, £8,339, €164,655, Curragh Ballyogan S., Gr.3, Fairyhouse Brownstown S., Gr.3, Curragh S., L, 3d Leopardstown Matron S., Gr.1, Curragh Athasi S., Gr.3, Ayr Firth of Clyde S., Gr.3.

Insayshable (Rajj). 4 wins from 1600m to 2000m, €21,688, HK$7,361,175, Leopardstown Membership S., HKJC Kwoon Chung Bus Cup, Maurice H., 2d HKJC Harlech H., Manawatu RC Challenge H., Hoi Ha H., 3d HKJC January Cup, Gr.3, Lion Rock Trophy, Gr.3, Happy Valley Vase, Chai Wan Kok H., Cheung Shan H., Camellia H., Mount Cameron H., Long Ke H., 4th Leopardstown Derrinstown Stud Derby Trial S., Gr.3, HKJC Centenary Vase, Gr.3.

Tatamagouche. Placed at 3 in Ireland. Dam of-

TRITICUM VULGARE (Frozen Power). 7 wins-2 at 2-from 1200m to 1800m, €76,819, to 2020, Milan Premio d'Estate, L, Rome Premio Odola, Premio Giampietrina, Premio Olimpio, Premio Guadanini, 2d Rome Premio Mauro Sbarigia, L, Premio Daumier, Premio Toulouse Lautrec, Premio Geremia, Premio Corriere dello Sport, Premio Stuck, 3d Rome Premio Divino Amore, L, Premio Campidoglio, Premio On the House, 4th Milan Premio Primi Passi, Gr.3.

4th dam

FAULTLESS TUDOR, by Tudor Grey. 21 wins, US$208,089, Sportsmans Gala Fete H., L, Arlington Park Colfax Maid S., L, Balmoral Park Mary Todd H., L, Goddess Special H., L, Rail Splitter H., L, Cahokia Dwight Denham S., L, Curley Reeves S., L, AL Oxford S., L, Greenville S., L, Goddess S., L, Fairmount Park Illinois Matchmaker H., L, 2d Sportsmans Illini Princess H., L, Ruffian S., L, Governor's Lady H., L, Cahokia Carmi S., L-3 times, Fairmount Park Miss East St Louis S., L, 3d Louisiana Downs Old South S., L. Sister to PEORIA COUNTY, Faultless Too (dam of FAULTLESS ENSIGN), half-sister to TOOT'S IMAGE (dam of AFFIRMED'S IMAGE, TOOT'S JUDGE, TOOT'S STAR), Perfect Moon, Tu Dor Lill. Dam of 14 foals, 11 to race, 8 winners, inc:-

Flawless Image (The Minstrel). Winner. See above.

Citysalt (Salt Lake). 6 wins-2 at 2-to 6f, 2d Calder Criterium S., L.

Faultless Singer (The Minstrel). 11 wins at 6f, US$149,919, 3d Fonner Park Tondi H., L, Coca-Cola Sprint H., L.

January Moon. Winner at 6f in U.S.A. Dam of-

LUNAR SOVEREIGN (Cobra King). 5 wins-1 at 2-from 7f to 11f, £9,661, US$490,700, 97,600Dhs, Belmont Man o' War S., Gr.1, Allowance-3 times, 2d Newmarket Heathavon Stud Houghton 2YO S., Nad al Sheba Crown Towers Melbourne P.H., 3d Monmouth United Nations H., Gr.1, Nad al Sheba Dubai City of Gold S., Gr.3.