Trainer: Peter & Paul Snowden
Incentives:
WRITTEN TYCOON X SCANDALEUSE – FILLY
● MAGIC MILLIONS GOLD COAST YEARLING SALE LOT: 339
● PURCHASED FOR $352,000 inc GST
● TRAINER: PETER & PAUL SNOWDEN
Biomechanics are a huge determining factor on if a horse will be FAST or not. This filly was rated by the company that does the Biomechanics as one of the top 5 horses in the sale.
✔ Rated 4th best in the entire Book 1, which is elite on biomechanics!
✔ Rated an 8 on our unique trait scale, one of about 7-8 in the sale only.
✔ Good airway.
✔ First foal is 3 from 3 and spoken of as the liklley champion.
✔ Huge arse, huge gaskin, power!
✔ Good girth and a real two year old physically.
✔ Lots of winners in the pedigree and lots of early runners.
✔ Magic Millions
✔ BOBS
✔ Peter and Paul Snowden.
What is interesting is, the first foal has had 3 races for 3 wins!!!
We hope she will be a two year old, and with the Gun trainers of Peter and Paul Snowden who certainly know how to get one running early, we are in great hands.
For those that know us well, you will heard us talk about horses with a UNIQUE but elite walk.
🗣️ LISTEN TO LUKE MURRELL'S THOUGHTS ON WHY WE PURCHASED THE FILLY!
Typically about 15 in 1000 have this walk, and this filly has it. If we look at our history of buying horses like this, we have purchased 26 horses with 24 being City or Group Class (The two that where not, were two horses who won 3 from 3, and another horse who won 2 from 2 with both unfortunately having to be retired early) This method is THE BOMB!
KEY STATS:
Written Tycoon is 76% runners to winners, better than Capitalist, Deep field, Extreme Choice, Lonhro, So You Think and Spirit Of Boom.

About the Mare: SCANALEUSE (War Front x Aruna)
She was a winner in the US and she is by one of the world's top 5 stallions in War Front.
The mare has had 1 foal to race so far and her first foal has run 3 times for 3 wins and is spoken about as the best horse in the country (in Morocco).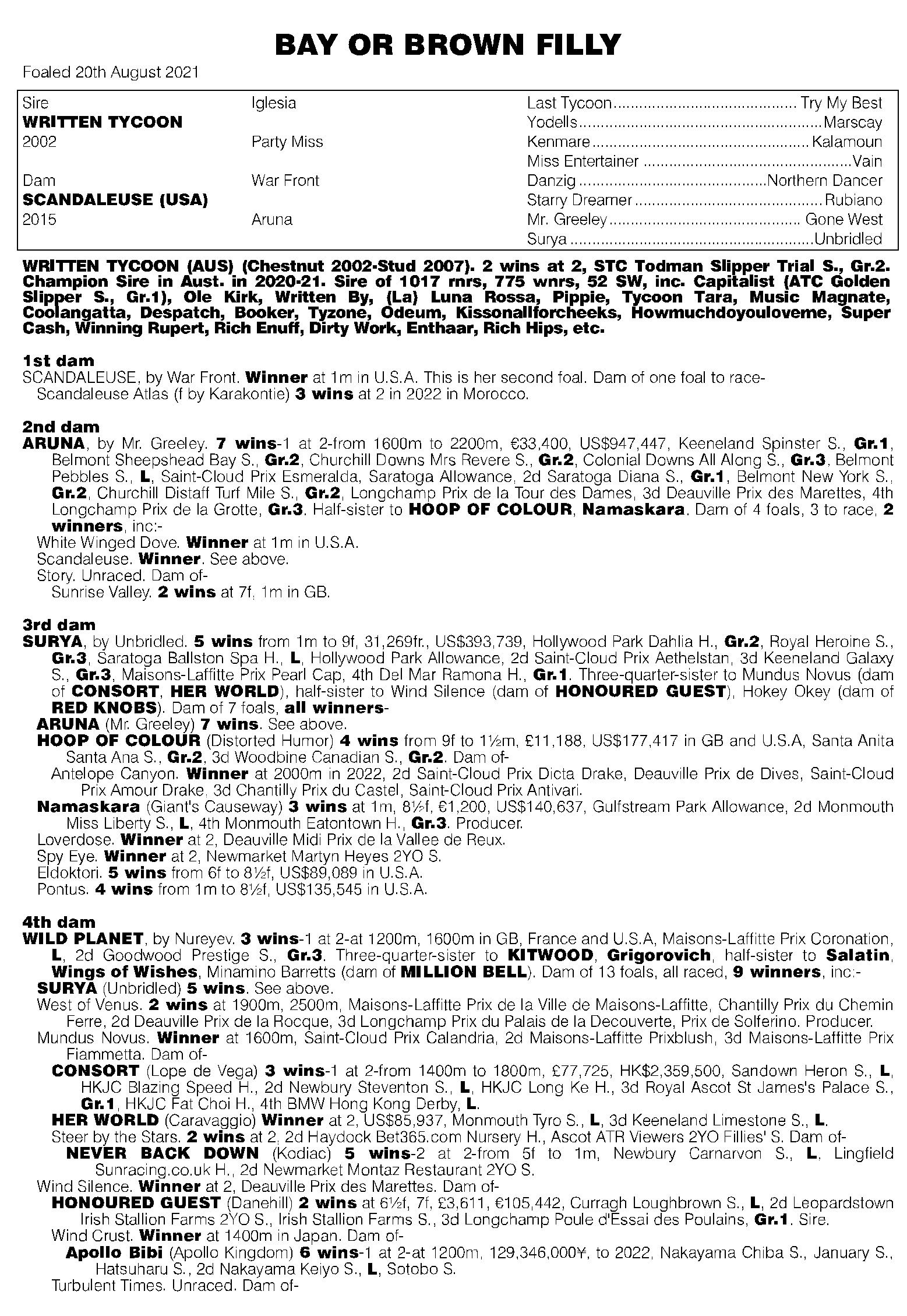 THE SIRE – WRITTEN TYCOON (IGLESIA X PARTY MISS (ARUNA))
Australia's Champion Sire – Written Tycoon adds proven star quality to an exciting young roster.
The winner of the G2 Todman S. in a racing career for his owner Sheriff Iskander, who has maintained his involvement right through to the present day, Written Tycoon began his stud career in 2007 at a service fee of $8,250, but his exceptional results soon brought a meteoric rise.
Australia's leading first season sire in 2010/11, and leading sire of two-year-olds in 2015/16, and the 2020/21 Australian Champion, Written Tycoon has sired a total of 759 winners from 998 runners to date.
The first sire since Redoute's Choice and Danehill in the last 25 years to sire two colts to win the two richest Group 1 2-year-old features in Australia. Capitalist took out the 2016 Golden Slipper Stakes, while Written By claimed victory in the 2018 Blue Diamond Stakes.
He is also the first stallion in 44 years to sire the winner of both the G1 Caulfield Guineas (Ole Kirk) and the G1 Thousand Guineas (Odeum).
His 52 individual stakes winners include Golden Slipper hero Capitalist, Blue Diamond winner Written By, and fellow Group 1 winners Ole Kirk, Pippie, Tycoon Tara, Music Magnate (NZ), Despatch, Tyzone, Booker, Odeum, Luna Rossa (NZ), as well as elite fillies Coolangatta and Enthaar. 
Many of his sons are now forging their own careers at stud, including leading first season sire Capitalist, Rich Enuff, Winning Rupert, Written By and Ole Kirk. 
Written Tycoon's yearlings continue to be hot commodities in the sale ring, averaging over $325,000 and selling for up to $1.4 million in 2022.
During his first season at Yulong Stud he covered some of Australia's most prolific mares, including 14-time Group 1 winning Melody Belle, top sprinters In Her Time and Viddora, Greysful Glamor and elite juvenile Catch Me, amongst others.
Ongoing costs for a 5% share per month with Australian Bloodstock.
Horse is spelling (approx.) $80
Horse in training (approx.)  $270
Australian Bloodstock management fee: $22pm
* We do not make a mark up on training fees, so you only pay what the trainer charges!
Want info on your ownership experience? Head to our FAQ or send us an email.
Need a little time to pay your share off? We have Lay-by available!
Got a question?
SEND US A MESSAGE