The five-year-old gelding Ironclad maintained his unbeaten record in Australia with a superb win in the Listed C S Hayes Memorial Cup over 1600m at Morphettville.
Turned out in race winning order by trainer Will Clarken, Ironclad sat just in behind the early speed before moving up to take on Ritratto and Lord Vladivostok, who had both made an early dash for home.
It wasn't the easiest of passages for Ironclad in the home stretch as racing got a little bit tight over the concluding stages, but Ironclad showed determination to match his ability and he was not going to be denied, in the end powering through for a clear-cut victory.
'He is obviously one of the most exciting horses that has come through my stable," said Clarken.
"It is a big privilege to get a horse to the standard that he is. I'm a nobody and they send a very good horse down to Adelaide to be trained by me … and having Kerron McEvoy on today … it is a big thrill for me.
'A really good friend of mine, Darren Arnold, vetted him in the UK. He was on their list. He had a few behaviour issues. Darren knows I have spent a fair bit of time around those sort of horses and he suggested to the guys at Australian Bloodstock that I'd be the guy for the job. Thank God it all came together.
"We put a really big syndicate together … mostly of my own owners … and for them to front up for that sort of money and to come on board in a stable in Adelaide, it is a real privilege that they trust me that much."
Ironclad had raced mostly over distances just beyond 2000m in the UK, but Clarken has now got the Dubawi gelding to salute over 1200m and 1600m in his two starts in Australia.
"We do the same thing with all of the tired horses," Continued Clarken. "We try to get them to get back and change gears … and just get into their heads and get them into a good psychological place.
"We did nothing different with him. The only thing that I did do in-between runs is pour the work into him. He is a massive, big, robust horse and there is no ceiling to him.
"He has obviously got an amazing pedigree (Dubawi – Heat Haze). He has a huge structure. He is very sound and his attitude has changed immensely.
"I actually ride him myself down at the beach because he can be a handful. The other morning I rode him and he has just turned the corner … he is so much a more willing and easier horse to get on with.
"He is loving life and you can see that in his coat and everything. He is just a happy, healthy horse."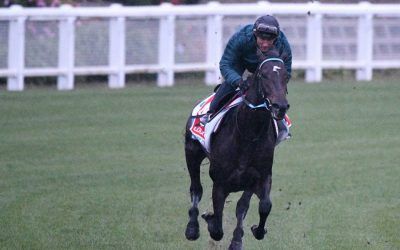 Story by Craig Kerry for maitlandmercury.com.auHunter syndicators Australian Bloodstock believe European import Gold Trip will be hard to beat at his best in the Cox Plate (2040m) on Saturday after drawing well in gate two and with rain on the way. Now, the...
read more
| | | | | |
| --- | --- | --- | --- | --- |
| Cool Missile | May 08, 2020 | Race 2 – Coffs Harbour | Margin 3.30 | Kris Lees / J Penza |
COOL MISSILE (Smart Missile x Cool Gal) made an impressive debut at Coffs Harbour on the 8th. After jumping fast she kept to the rail under Jeff Penza and exploded on the turn to start the perfect way. Onwards and upwards!
Owners: Australian Bloodstock (Mgr: L Murrell), Power Thoroughbreds (Mgr: W Power), J Lovett, P Pavan, P Carswell, T Carswell P Rapone, G Greedy, A Gordon, M Priadko, E Guichelaar, Mrs N Hoffmann, Miss E Engelhard, J Roddy, Mrs A McKee, J McRedmond, G Roddy, D Eales & D Stafford