Joseph O'Brien has called on Racing Victoria to review its "nightmare" veterinary screening process for international horses, warning that even fewer raiders will travel to Melbourne next year.
O'Brien, who won one of Australia's premier races when State Of Rest triumphed in the Cox Plate on Saturday, said: "I can't tell you how much of a struggle it was to get through all the hoops and the scans. If I'd known how difficult it would've been to get through all the hoops, I'm not sure we would have even gone down in the first place."
Speaking on Monday, O'Brien revealed he had questioned his decision to travel State Of Rest and defending Melbourne Cup champion Twilight Payment after watching them undergo a series of mandatory tests and scans before their departure.
O'Brien, who is one of only a handful of European trainers sending horses to Melbourne this year due to the heightened veterinary protocols, said he would be unlikely to subject his horses to the same process again in 2022.
---
Joseph O'Brien: the sheer scale and versatility of his operation is staggering (Members' Club)
---
"Luckily, we have a great team of people and vets, as well as the team in the office who managed all the logistics and we managed to get it over the line," O'Brien added. "But really, it was a struggle and I'd like to think that in the years to come, they'd be reviewing the protocols that they have in place for us each year. It's some of the top racing in the world and you've got great prize-money and great competition."
O'Brien said that, like his father Aidan, he had taken particular issue with the mandatory scintigraphy scan. He said State Of Rest needed to be sedated four times in a week in order to complete the required scans in time to enter quarantine.
The new measures were introduced this year following Racing Victoria and the Victoria Racing Club's investigation into the recent spate of horse deaths in the Melbourne Cup.
"The scans are not too bad but the horses have to get sedated every time and for the scintigraphy, they spend three days at an equine hospital which is three days out of their routine and their environment," said O'Brien.
"It's a real nightmare in the run up to a big race. State Of Rest for example, I think he had to be sedated four times in one week in order to get through all the protocols in time which is unheard of."
O'Brien said a decision would be made in the next few days whether State Of Rest contests the Group 1 Mackinnon Stakes or heads to Hong Kong. He said defending Melbourne Cup champion Twilight Payment, who is also in residence at Werribee, remains on track for next week's $8 million Melbourne Cup.
Final vet checks for all contenders for the Flemington showpiece have been disrupted as a key scanner is out of action. The CT scanner at the U-Vet Equine Centre stopped operating over the weekend, with 16 horses still waiting their final scans and will not be operational until Thursday at the earliest.
---
'It was an anxious wait' – State Of Rest survives inquiry drama to win Cox Plate
---
There are still concerns the required part may not arrive in time due to international delivery delays caused by Covid-19 travel restrictions.
RV's general manager of integrity services Jamie Stier said the mechanical issue was "both unfortunate and disappointing".
"We're taking a pragmatic approach to the situation. All Melbourne Cup acceptors will still be subjected to increased and unprecedented veterinary scrutiny using alternative diagnostic imaging at U-Vet before being cleared to start in next Tuesday's race," he said.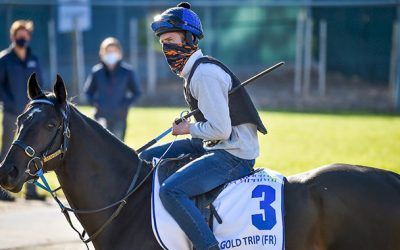 Story by Edward Sadler for racing.com:  It might be 10 months later than his connections had hoped for, but Gold Trip will finally get to race at Moonee Valley this Saturday. The talented import was controversially scratched from last year's Cox Plate due to Racing...
read more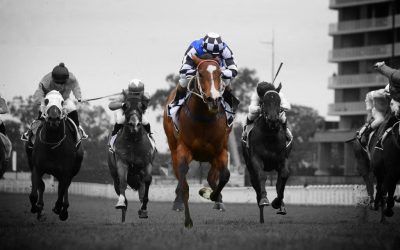 Hellavadancer | Aug 13, 2022 | Race: 1 - Eagle Farm | Margin: 3.50 | Kris Lees / J Byrne $75,000 XXXX DRY QTIS Three-Year-Old BENCHMARK 72 Handicap (1500 METRES)WATCH THE RACE>>Owners: Chris Baldwin, Australian Bloodstock, Louise Ellis, Duncan Etwell, Natasha...
read more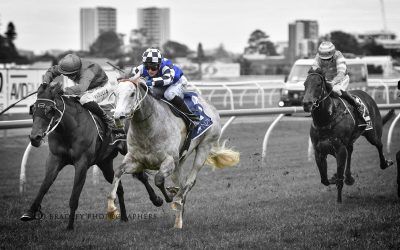 Spangler | Aug 11, 2022 | Race: 6 - Newcastle | Margin: 0.20 | Kris Lees / Dylan Gibbons $40,000 NEW ZEALAND BLOODSTOCK CLASS 1 HANDICAP (1400 METRES)WATCH THE RACE>>Owners: Mikey Agnew, Marcus Apicella, Brad Audet, Mario Avellino, Geoff Barrett, Australian...
read more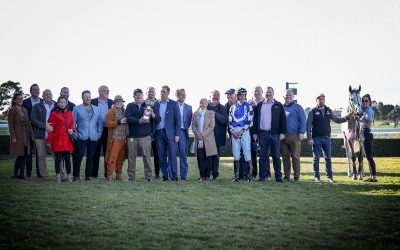 Saunter Boy | Aug 07, 2022 | Race: 5 - Sandown -Lakeside | Margin: 0.80 | Ciaron Maher & David Eustace /  S Pateman $400,000 Grand National Hurdle (4200 METRES)WATCH THE RACE>>Owners: Australian Bloodstock (Mgr: L Murrell), Australian Bloodstock No 2 (Mgr: J...
read more