A win in a $5 million race is always one to treasure, but for Australian Bloodstock's Jamie Lovett, the 2021 All-Star Mile at The Valley won't even be remembered so much for its result, but rather for its extreme contest.
''You wouldn't see two better rides in racing I don't think, and I doubt you'd see two better training performances with the first two horses,'' Lovett said on Sunday of the battle to the line between his horse Mugatoo and Russian Camelot.
''I hadn't watched it (replay) until this morning with all the carry-on last night and I have to say they both (jockeys) gave their horses every chance and tactically, they were like two first grade footballers playing in a third-grade match.
''Rarely if ever would you see at The Valley two horses that thread the needle like that.''
Hugh Bowman rode Lovett's horse Mugatoo to a thrilling victory over Damien Oliver's mount Russian Camelot but while he riders were understandably gaining all the credit for putting on such a show, Lovett said the efforts of Kris Lees with Mugatoo and Danny O'Brien with the runner-up should be equally recognised.
''The first two across the line, they were so well trained,'' he said. ''People don't realise just how hard it is to get a horse that is really a mile and a half (2400m) or mile and a quarter (2000m) horse to keep them freshen enough to be able to perform like they did at a mile.
''It was a really good training performance to win a race of that quality a mile because he's not a miler and you could probably say something similar about the second horse.''
But it was the rides of Bowman and Oliver on worsening ground that underpinned the contest.
''Oly's ride was a beauty but Hughie has such a cool head,'' he said. ''A lot of jockeys would have panicked when they squeezed up on the turn, but he took his medicine for two bounds and that won him the race.
''If he tries to get off, he becomes unbalanced and the race is over.
''That's why you put them on. If you've got a good horse like that, they are worth their weight in gold.''
Lovett said he expects Lees will set the horse for the group 1 Queen Elizabeth Stakes at Randwick on April 10, which he says looms as the race of the Sydney autumn as Russian Camelot also goes there.
''It is going to be a proper weight-for-age race. A mini Cox Plate,'' he said.
Lovett said Mugatoo, who raced six times in Europe as a young horse and now has run 18 times for nine wins and earnings of $3.2 million, could be still on the way up.
''David Simcock, who had him over there (Europe), he rang me his morning and we were talking about how lightly raced the horse is and how he is still improving,'' he said.
''It's his third prep in Australia now and he's bounced off a Cox Plate campaign.
''His work at home before he came to Melbourne, I don't think he could have worked like that last spring, so he's taken a quantum leap.''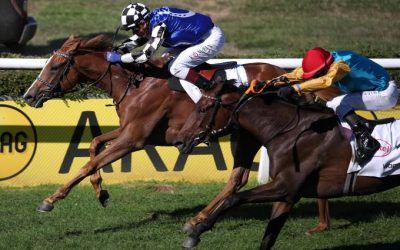 Story by anzbloodstocknews.com.au:  Murrell and Lovett win third Preis der Diana in ten years with Andreas Wohler-trained daughter of Shamalgan Australian Bloodstock won its third Preis der Diana (Gr 1, 2200m) in a decade in Germany on Sunday, but don't expect to see...
read more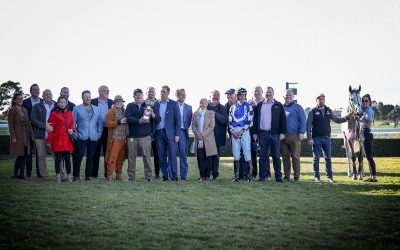 Saunter Boy | Aug 07, 2022 | Race: 5 - Sandown -Lakeside | Margin: 0.80 | Ciaron Maher & David Eustace /  S Pateman $400,000 Grand National Hurdle (4200 METRES)WATCH THE RACE>>Owners: Australian Bloodstock (Mgr: L Murrell), Australian Bloodstock No 2 (Mgr: J...
read more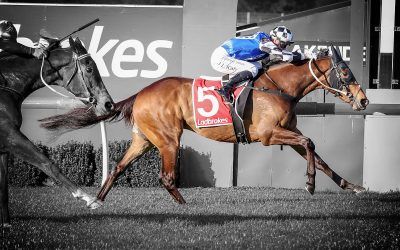 Golden Crusader | Aug 07, 2022 | Race: 6 - Sandown-Lakeside  Margin: 0.40 | Price Kent Racing / Jamie Kah $55,000 Ladbrokes Switch Handicap (2100 METRES)WATCH THE RACE>>Owners: Australian Bloodstock, Simon Dorrat, Louise Ellis, Matthew Faiman, Billy Geaney, Lisa...
read more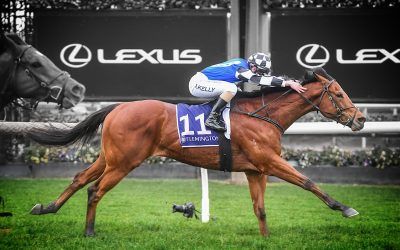 Turn On The Charm | Aug 06, 2022 | Race: 8 - Flemington| Margin: 0.30 | Price/Kent Racing / Alana Kelly $150,000 The Skyline Lounge (1410 METRES)WATCH THE RACE>>RECENT PURCHASES[mist_new_horses_available template="off" items_per_slide_tablet="1" loop_slider="on"...
read more