Gold Trip last week became a second winner of the race that stops a nation for leading syndicate operation Australian Bloodstock. Jon Lees discovers the secret to their high-profile success.
Australia: In the world of syndicated racehorse ownership there is nothing to match Australian Bloodstock.
Over a 15-year existence, the operation founded by Jamie Lovett and Luke Murrell has not just delivered winners for their clients but helped them fulfil lifelong dreams with success in Australia's most iconic races.
Among the 751 winners, 81 at Group and Listed level – the most of any syndicate in Australia, where such ownership vehicles proliferate – there have been two in the Melbourne Cup after Gold Trip landed the A$8 million ($5.17m/£4.55m) prize on November 1 to add to the success of Protectionist in the famous Flemington two-miler in 2015.
"It's very hard to win the Melbourne Cup, but we've been lucky enough to find two very good horses, both bred in Europe," says Lovett, 50. "That superior staying form comes to the fore in Australia if you buy the right type of horse."
Buying the right type of horse is a skill at which Lovett and Murrell excel. Since giving up their jobs in real estate and finance they have scoured the world for suitable talent, creating a database of videos and data that helps them source the best horse that fits their preferred template.
Many of their most successful acquisitions originated in Europe, to demonstrate that being on the other side of the world has not hindered their eye for good horses.
"A lot of time has gone into building our database which allows us to compare times, racecourses and tempos, things which are very relevant when you bring a horse down to Australia," says Lovett.
"We have good people on the ground in the northern hemisphere, Ronald Rauscher [bloodstock agent] in particular. If we like a horse we get him to inspect it for us. He knows the sort of horse we like and then if gives us a tick we move forward for vetting and the like."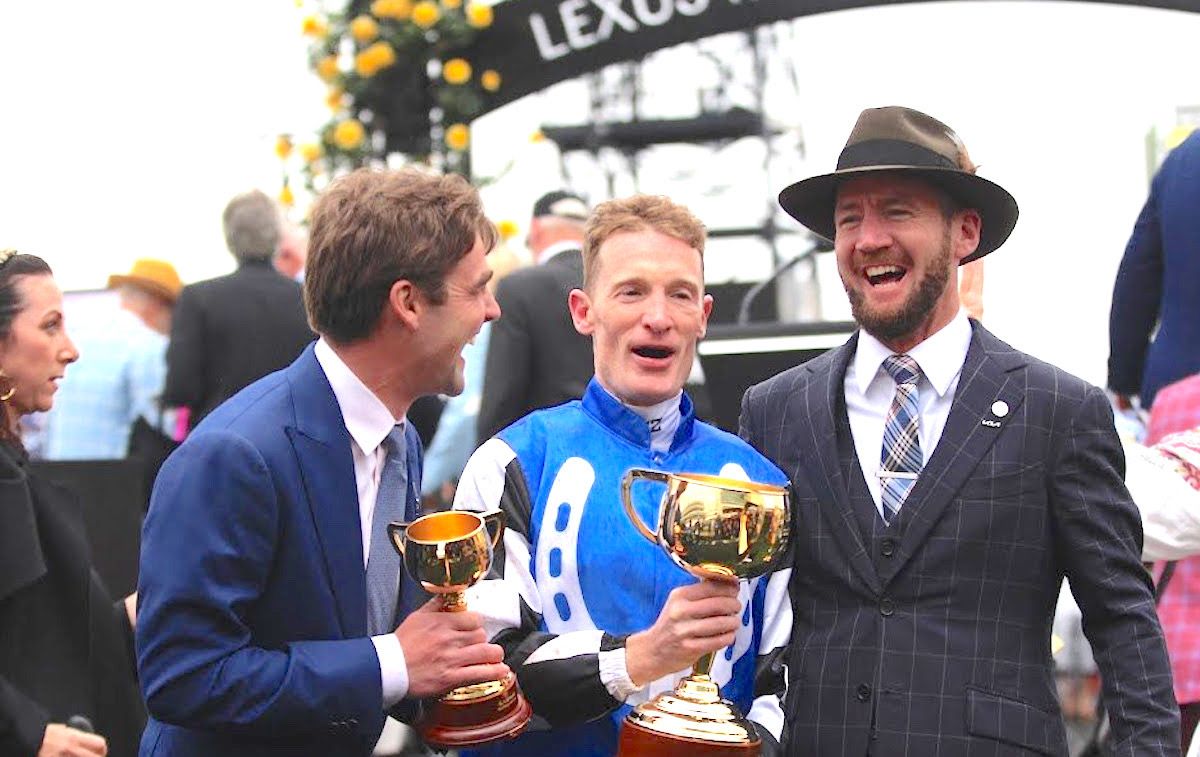 Australian Bloodstock went way beyond their usual budget to pay a reported A$2.3m ($1.48m) to buy Gold Trip out of the stable of French trainer Fabrice Chappet in 2021 and placed him with Ciaron Maher and David Eustace.
"We normally wouldn't play at the pointy end," says Lovett. "It's very hard to get your hands on a horse of that quality. When we did acquire him he had some of the better form lines in Europe.
'It wasn't that he wasn't a trier'
"Even though he hadn't won, I was always of the view that it wasn't that he wasn't a trier, he was running in top company. There wouldn't be too many horses down here that could run fourth in an Arc and run consistently well at that level.
"The thing I liked about him is his biggest beaten margin in nearly all his races has been about two lengths. He's a trier and David Eustace and Ciaron Maher have done an outstanding job with him to run a career peak on his 16th start."
The goal had been to race Gold Trip in the 2021 Cox Plate but he fell victim to Racing Victoria's strict new vetting procedures when he was found slightly lame on the eve of the race. He didn't make his Australian debut until July this year.
"Last year the Cox Plate didn't go to plan," says Lovett. "We were adamant the horse was right but you have to accept the umpire's decision so it was a long 12 months.
"So now it feels all the more rewarding and satisfying to the owners who have been very patient and always believed in him."
'I'm glad we made the decision to go'
He goes on: "To think 12 months down the track he has now run second in a Caulfield Cup, had a luckless run in the Cox Plate and won a Melbourne Cup, it's been some ride.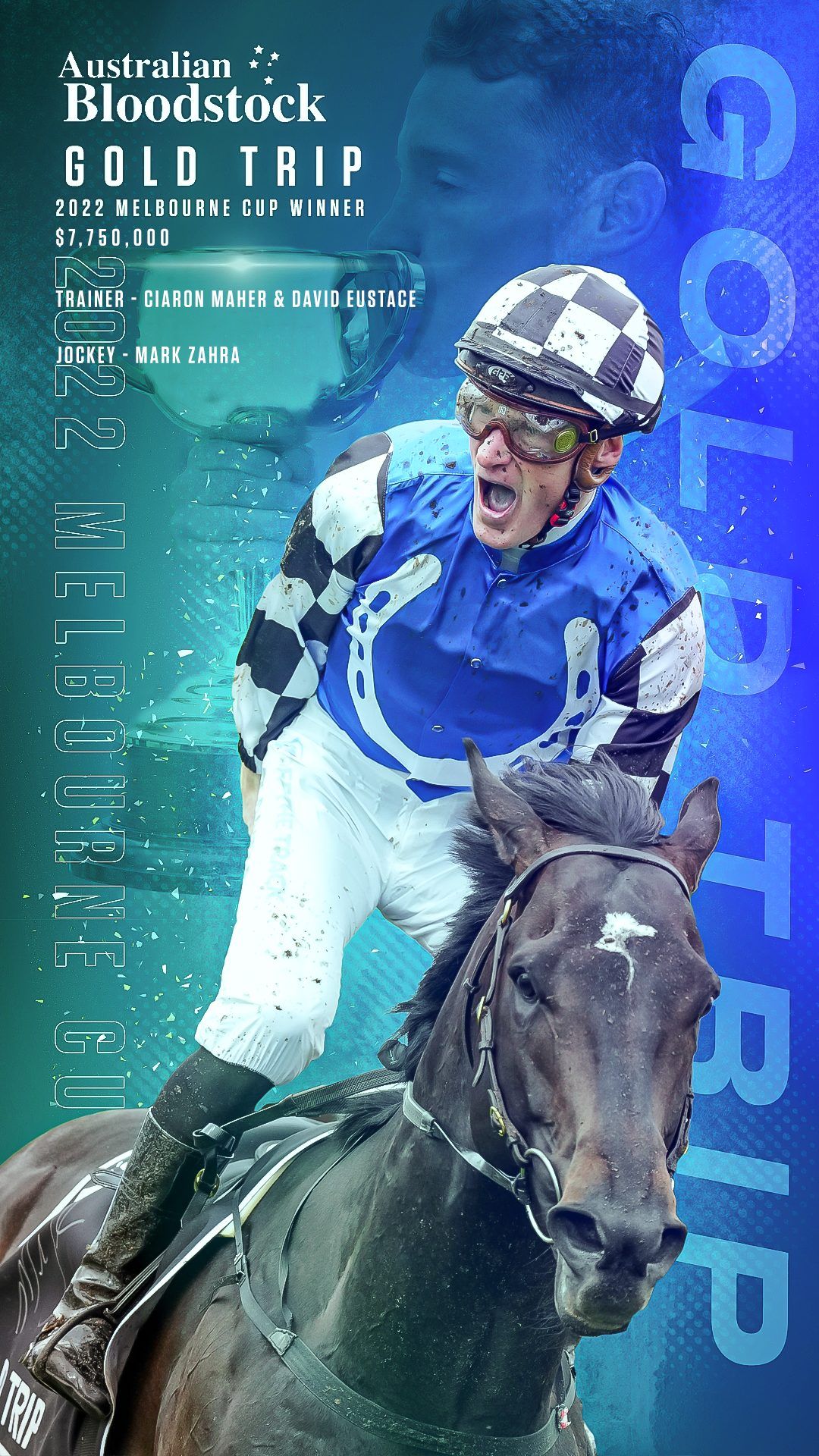 "The one thing we have learned is he is very clean-winded and sound and we felt if he got his forgiving ground we could give the Melbourne Cup a try. It was only after the Cox Plate Ciaron Maher asked if we wanted to have a go. I'm glad we made the decision to go!"
Gold Trip will be given a break with sights likely to be set on the Sydney Autumn Carnival in March and April next year. "He has shown he can quicken up so I think he is a weight-for-age horse which he showed by carrying top weight in the Melbourne Cup," says Lovett.
"He'll have the saddle off his back and then we will look at maybe the Queen Elizabeth or Tancred Stakes. They should be right in his zone. Depending on the weights we would love to come back and have a crack at the Melbourne Cup next year."
Gold Trip's success will fuel more inquiries for shares in horses recruited by Australian Bloodstock who cater for thousands of investors and at all budget levels.
"An expensive horse like Gold Trip is not one for your general 'mum and dad' investors," says Lovett. "He probably has only eight or nine in him, and some of those guys would bring other people into the group.
"The yearlings we buy up to a level of A$150,000 ($96,000) which are for your mums and dad types, but the horses we buy from Europe are more expensive. We hand-pick the clients that might want to race those types of horses.
"We cap our string at 120 in training. That's the number we have found is sustainable for our business as long as we are winning races, which thankfully we have continued to do year-in year-out which has enabled us to buy more horses."
When they started, Lovett and Murrell dipped their toe into the water with a couple of inexpensive tried horses, whose successes enabled them to expand.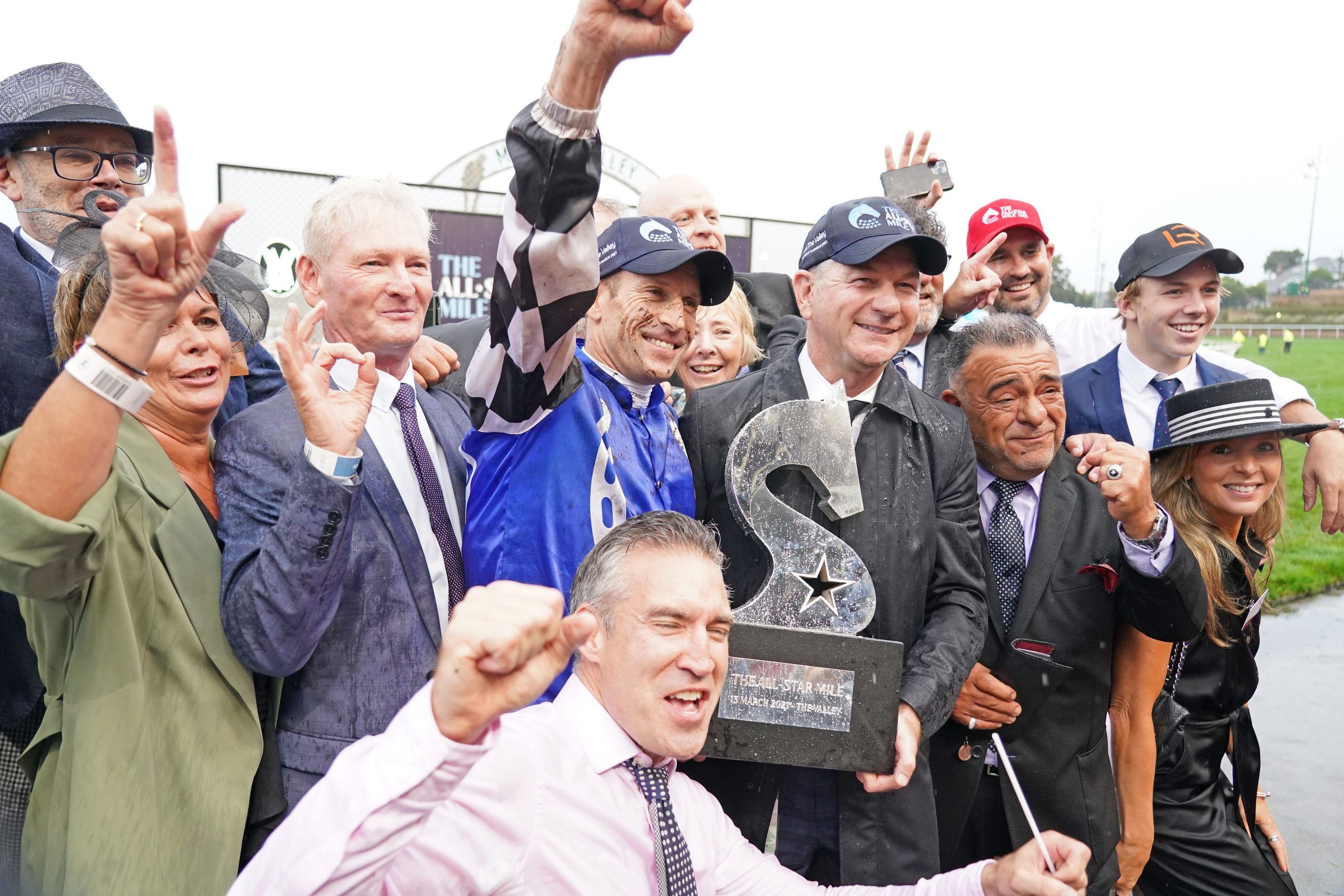 One of their first significant purchases from Europe was the 2010 Goodwood Cup winner Illustrious Blue. He finished ninth in that year's Melbourne Cup, still enough to collect A$120,000 ($77,000) in prize-money.
After Lucas Cranach was sourced from Germany, finishing fifth in the Caulfield Cup and third in the Melbourne Cup the following year, they put greater focus on the overseas scene, particularly in Germany where they have won the German Oaks three times. They found another money-spinner in former David Simcock-trained Mugatoo, who won the All-Star Mile in 2021.
This year's German Oaks winner Toscana Belle, from the yard of Protectionist's trainer Andreas Wohler, has recently been sold to Shadai Farm and will go into training with Roger Varian in Newmarket.
"It's been a good year," says Lovett. "It started with Toscana Belle winning the German Oaks, Top Ranked, another UK import, won the Epsom Handicap at G1 level, and Gold Trip was second in the Caulfield Cup and won the big one, the Melbourne Cup.
"In Australia with the prize-money you have a live chance of getting a return on your investment. With the greatest respect to the UK, where we have raced quite a few, we just can't make the numbers work and you finish up behind. We are very fortunate in Australia."