Australian Bloodstock have assembled a team of high quality stayers to attack this year premier Australian races including the Caulfield and Melbourne Cups.
Their success in recent years with imported stayers speaks for itself with the likes of Mugatoo, Mustajeer, Raheen House, Our Candidate and Sixties Groove all impressing on Australian soil.
Their latest purchase, AQUILEO (Gleneagles x Nobilis) is a lightly raced son of Gleneagles who has impressed Luke Murrell, and we picked his brain on why he thinks the Colt will be a force to be reckoned with in Australia under the tutelage of Ciaron Maher.
Why did you buy him?
"In his two runs this season he has run into two races that are genuine Group Races or equivalent in Australia and we believe we have stolen him at the price. As you will see from his races he's completely raw and untested and our background research on him says he's a big baby with no idea what he is doing, which is an exciting extra dimension."
"He's a lovely moving horse with strong form around him and the fact he has run fast time and yet he is still so raw and green suggests to me that he is a horse with a huge future and at the price is extremely well bought."
"He has great staying ability and interestingly his pedigree is full of stoute and slow maturing horses so we should have a number of years with him with his best years ahead of him."
Without giving away your secrets can you give us some insight into the process for selecting Aquileo?
"Take his run at Haydock on the 8th June as an example. This was a high class race and we have been told by one of the best judges in England that the winner (Win O'Clock), in 12 months is capable of winning a Melbourne Cup such is his talent and the reputation he has and we are seriously considering buying him based on what he's done here and his next run when at Royal Ascot.
"There is some serious form around this horse (Win O'Clock), post this win he went to Royal Ascot in a hot race and was beaten just 3 lengths when not suited at all, it was a very good run."
"Post that race at Royal Ascot Win O'Clock steps out and runs very fast time and beats a very good horse over 2000m again franking his form, very good and multiple formlines in just the one horse."
"I really like that Aquileo started favourite against Win O'Clock here and whilst beaten, the trainers horses early post covid were not as fit as others which is a good sign suggesting there is improvement in them."
"The other form from the race is also first class with Pot Of Paint stepping out and running 2nd by a head his next go to a horse who has won 3 in a row and is highly thought of with fast times as well."
"This was in a high grade race equal to our Listed race events, at least. My ratings say it was Group 3 standard. The 4th horse then ran close up in a red hot race at Leicester, the second horse I think is a Group 1 horse and a horse we have been trying to buy for the German Oaks such was the race depth. The 5th horse his next start he came out and won, so the race is full of good quality depth. For us importantly it was run in overall fast time with good sectionals home."
"The upside in the race for the keen observers was that AQUILEO for the first half of the race was too fresh and keen and never travelled or relaxed within himself which in turn took away his finishing speed."
What's the plan with him?
"He enters quarantine next week and will be on the first shipment to Australia where he heads to Ciaron Maher and David Eustace to commence training straight away."
"Being a maiden we get the added upside of a low handicap and not being penalised for his hot form in the UK. Similar to the other low  handicapped horses we have brought over like Mugatoo, Big Duke, Plein Ciel, Attention Run and Our Candidate."
And the big question, any shares available?
"Haha yeah we get that question a lot. Like most of our purchases our imports go super fast as we have a very loyal existing client base that have had great success"
"Anyone looking to get into one of our imports can fill out the Expression Of Interest form on our website" (Expression of interest form is below)
Any other imports we should keep an eye on this year and maybe a sneaky futures bet for readers?
"We have purchased 5 high quality stayers this year who we think will be very competitive in the upcoming cups"
"As far as a futures bet goes, as always the bookies are pretty tight with their futures markets so there isn't a lot of value around but you could have something small on Almania for the Cups"
GET INVOLVED IN OUR NEXT IMPORT!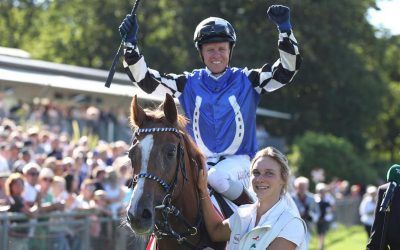 Story by Tara Madgwick for breednet.com.au:Australian interest was high in Group I racing overnight in Europe and while Australian bred and owned colt Artorius raced below his best at Deauville, the Australian Bloodstock team had plenty to celebrate claiming their...
read more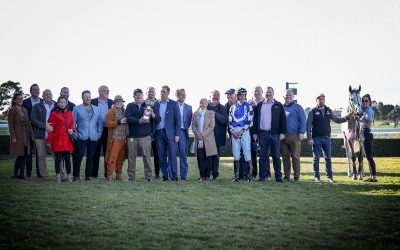 Saunter Boy | Aug 07, 2022 | Race: 5 - Sandown -Lakeside | Margin: 0.80 | Ciaron Maher & David Eustace /  S Pateman $400,000 Grand National Hurdle (4200 METRES)WATCH THE RACE>>Owners: Australian Bloodstock (Mgr: L Murrell), Australian Bloodstock No 2 (Mgr: J...
read more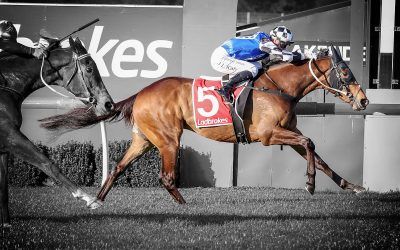 Golden Crusader | Aug 07, 2022 | Race: 6 - Sandown-Lakeside  Margin: 0.40 | Price Kent Racing / Jamie Kah $55,000 Ladbrokes Switch Handicap (2100 METRES)WATCH THE RACE>>Owners: Australian Bloodstock, Simon Dorrat, Louise Ellis, Matthew Faiman, Billy Geaney, Lisa...
read more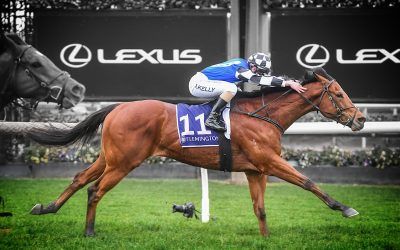 Turn On The Charm | Aug 06, 2022 | Race: 8 - Flemington| Margin: 0.30 | Price/Kent Racing / Alana Kelly $150,000 The Skyline Lounge (1410 METRES)WATCH THE RACE>>RECENT PURCHASES[mist_new_horses_available template="off" items_per_slide_tablet="1" loop_slider="on"...
read more