Road to the Melbourne Cup

This year will be a year like no other for the Melbourne Cup. With the backdrop of a pandemic and the introduction of additional vetting procedures in the face of a series of fatalities in the race, the Road to the Cup is a chequered one for many international aspirants dreaming of winning the Race that stops a Nation in 2021.
ANZ Bloodstock News will be following the fortunes of the Australian Bloodstock-owned Rodrigo Diaz who, after finishing second in the Geoffrey Freer Stakes at Newbury last month, has secured his ticket to Australia.
The Jamie Lovett and Luke Murrell-run Australian Bloodstock are no strangers to Melbourne Cup success, having won the great race with Protectionist in 2014, and now they bid for glory once more. Each week we will speak to Jamie Lovett and Rodrigo Diaz's trainer David Simcock, as we charter his journey to Flemington on November 2.
We are relishing taking on Stradivarius – Jamie Lovett
Unfortunately David Simcock's staff were unable to get out on a flight to Australia this week, meaning they wouldn't have been able to meet the horse for when he finished quarantine himself.
Instead, he'll run in the Doncaster Cup tomorrow and then we'll just have to wait and see if we can get his staff out here, which is looking more and more unlikely, so I'm told.
We may have to make a decision to use some staff on the ground in Australia should they not be able to travel at all, but it will all be up to David Simcock.
I've done it before, where horses still run in the European trainer's name if they come for the one run.
Now what will happen is that he'd be trained out of Newmarket for two weeks prior to leaving, get on the aircraft which will arrive on October 12, have two weeks in quarantine, and pretty much just run in the Melbourne Cup.
Generally for that first week they arrive they're just cantering anyway, and then he'd have two gallops into the Cup. We've got a number of options for when he comes over. I know a guy who's worked for us for years and has gone into quarantine here. He's an established trainer and jumps rider himself, so as far as doing the gallops is concerned, he's ideal.
And then there's Ciaron Maher, who's taking Gold Trip. He's offered to help in any way he can and may stick a groom in or something like that.
Obviously that's not our preferred scenario. But we all work in the same industry and these guys that work in and around the stables know what they're doing. We trust them and it's basically his last couple of gallops where it's important he doesn't do too much and doesn't do too little.
If there wasn't another race in Europe for him then it might not be feasible to bring the horse over at all because he definitely needs another run. So, having Doncaster there this week, in some way it might be a better lead up for him on a big track, rather than some of the tighter tracks here. It might suit him more.
It's going to be a good race and he's going to have to be at his best to compete with a horse like Stradivarius. As I understand it, David was delighted with his last piece of work on Saturday. He's come out of the run well and he sits in a really good place. If we were ever going to go to a race and take on the likes of Stradivarius, I think this is the time to do it.
He gets his right trip, he gets a good track and he gets the right rider (Jamie Spencer). We'll know where we are, that's for sure.
If he were to win the Doncaster Cup and beat Stradivarius then he'd get an extra kilo or two when the weights for the Melbourne Cup are released on Tuesday, for sure, but it would also mean he definitely makes the field as well. And if he did win the race he'd nearly go favourite for the Cup, you would have thought.
Given Stradivarius probably isn't the horse he was – I don't think he's run up close to his rating this year – I think it would be fair that Greg Carpenter, the handicapper in Victoria, would look at it and decide he'd be a few kilos off the top weight.
The latest round of acceptances released yesterday inevitably revealed that international participation will obviously be down this year for the Cups, but, with where Australia currently sits with Covid, I'd suggest any number of international participants would be a good number for this year's carnival. The challenges that we're facing with this, with international borders being shut and no commercial airlines coming into Australia, if you weigh all that up, Racing Victoria would be thrilled to have any international participation at all. If there was ever going to be a year that it was zero, this would be it.

Gold Trip in form but Zaaki the one to beat – Jamie Lovett
Gold Trip, who is targeting the Cox Plate and will stay with Ciaron Maher in Australia, will be coming on the first shipment.
But he's going to have to go some to beat Zaaki. He was fantastic in the Tramway last week.
Gold Trip has some exposed form in France and you'd say that form would make him very competitive, but you can only believe your eyes and Zaaki couldn't have done any more in his career in Australia to date, so I think Gold Trip is going to have to improve again to beat him, but he's a very good horse and good horses can make that sort of improvement.
Mankayan at a spring crossroads – Jamie Lovett
On Saturday we have Mankayan making his second start in Australia at Kembla Grange. He will certainly need to run very well if we're going to push on to better targets in the spring.
He'd need to win and run very well and that will give us the option to back up into a Newcastle Cup a week later which would give him an opportunity to run in the Metropolitan. He's certainly going to have to keep improving but we think he's the right sort of horse, so hopefully he'll win on Saturday and that will give us some decisions to make.
Ventura Ocean, who also races at Kembla Grange on Saturday, is our horse to target the Provincial Championships in the autumn. He was a relatively inexpensive horse that we thought ran a good time in the UK and he's done an amazing job since arriving, winning twice at Eagle Farm.
We won the Provincial Championships this year with another imported sprinter in Cristal Breeze that William Haggas used to train. So we were looking for a similar profile horse to him that would be a good chance in a race like that. Ventura Ocean might actually be a better horse than him. It's a half a million dollar race to target so we'll see how it plays out.

You need Plan C and Plan D right now – David Simcock
David Simcock remains hopeful of getting a member of staff over to Australia to oversee the Melbourne campaign of Rodrigo Diaz, but the prospect appears to be diminishing after hopes to send an employee this week were thwarted.
"It's a massive issue at the moment," Simcock told ANZ Bloodstock News yesterday. "They're not letting Australian nationals into the country, so there's no way they're letting 'essential' British horseracing staff in.
"It would be very important to us that our staff are there. But we'd find out about that in the next couple of weeks.
"There are other alternatives. It's a long time down there to have someone relaying things across the phone from a long way away and this would be something totally new for me, as it would be for most. It's not straightforward.
"It's a testing time and it's the not knowing that makes it very difficult. You don't just need a Plan B, you need Plan C and D too."
However, the Newmarket-based trainer hopes it can prove a blessing for Rodrigo Diaz, with the gelding set to take on Stradivarius in tomorrow's Doncaster Cup before attempting to go to Australia on the second shipment on October 12, a scenario Simcock is much more comfortable with.
"Firstly, we didn't know what weight we'd be allocated in Australia and we were very conscious that it's a long way to go and then you get into quarantine and you find you're lower than you thought when the weights are released and, secondly, it's a long time between drinks. We'd be going probably with the view that we wouldn't be having a prep run. So this tightens up the time between races," said Simcock.
"This would have been my preferred route originally. It would have been a long time between races and, for me, probably the less time he's down there the better."
Reflecting on the chances Rodrigo Diaz has of adding to his tally of four wins tomorrow Simcock said: "We're realistic. Going up against Stradivarius and Trueshan. They're both very highly rated stayers at 121 and 118. What we just want is a good showing and then to go up a few pounds wouldn't hurt, just to make sure he gets into the race.
"He's in great shape, I'm really happy and looking forward to him running."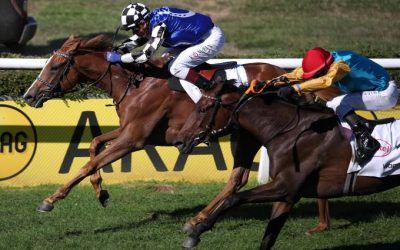 Story by anzbloodstocknews.com.au:  Murrell and Lovett win third Preis der Diana in ten years with Andreas Wohler-trained daughter of Shamalgan Australian Bloodstock won its third Preis der Diana (Gr 1, 2200m) in a decade in Germany on Sunday, but don't expect to see...
read more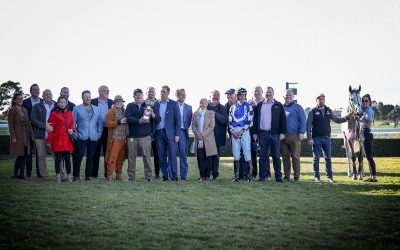 Saunter Boy | Aug 07, 2022 | Race: 5 - Sandown -Lakeside | Margin: 0.80 | Ciaron Maher & David Eustace /  S Pateman $400,000 Grand National Hurdle (4200 METRES)WATCH THE RACE>>Owners: Australian Bloodstock (Mgr: L Murrell), Australian Bloodstock No 2 (Mgr: J...
read more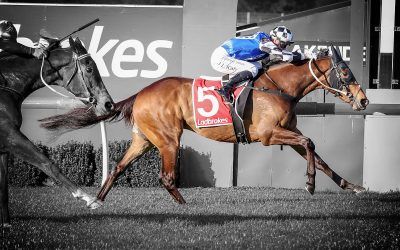 Golden Crusader | Aug 07, 2022 | Race: 6 - Sandown-Lakeside  Margin: 0.40 | Price Kent Racing / Jamie Kah $55,000 Ladbrokes Switch Handicap (2100 METRES)WATCH THE RACE>>Owners: Australian Bloodstock, Simon Dorrat, Louise Ellis, Matthew Faiman, Billy Geaney, Lisa...
read more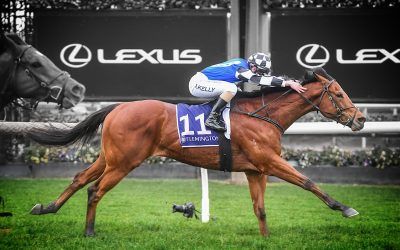 Turn On The Charm | Aug 06, 2022 | Race: 8 - Flemington| Margin: 0.30 | Price/Kent Racing / Alana Kelly $150,000 The Skyline Lounge (1410 METRES)WATCH THE RACE>>RECENT PURCHASES[mist_new_horses_available template="off" items_per_slide_tablet="1" loop_slider="on"...
read more