Do you dream of owning a world-class racehorse?
Are you dreaming of victory in the most prestigious horse races in Australia?
Look no further! Our exclusive offering ensures that you have an almost guaranteed runner by your side. Our expertise and dedication to success will give you the edge over the competition. Join the ranks of champions and make your mark on Australian horse racing history. Don't settle for anything less than a guaranteed contender.
Contact us now to secure your spot on the winner's podium!
As passionate thoroughbred lovers, Australian Bloodstock enjoy worldwide success on the racing stage with our wonderful owners.
Using state of the art biomechanics, coupled with our proven formula in thoroughbred selection, we have become Australia's most successful syndicator.
We are the right choice for racehorse ownership.
Watch
Gold Trip wins the 2022 Melbourne Cup!
Star Turn X Izzajewel – Filly
● MAGIC MILLIONS GOLD COAST YEARLING SALE LOT: 1133
● Share Price: 2.5% – $1,460.50 | 5% – $2,921
● TRAINER: KRIS LEES
🎥 WATCH BELOW TO HEAR LUKE MURRELL'S THOUGHTS ON WHY WE PURCHASED THE FILLY!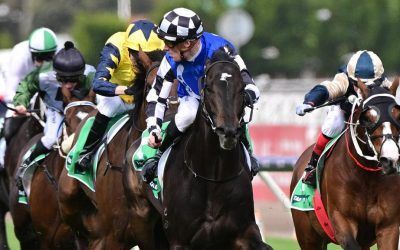 Melbourne Cup champion Gold Trip has stamped his authority on upcoming spring majors with an unbelievable performance in the Group 1 Turnbull Stakes (2000m). In his first trip back to Headquarters since the first Tuesday in November last year, the Ciaron Maher and...
read more
Upcoming Runners
Horse
Date
Time
Race
Track
Fields/Form

Nominations

Princess Tosen
Dec 15, 2023
5 - Cranbourne
Cranbourne
Field
Hotzino
Dec 15, 2023
8 - Cranbourne
Cranbourne
Field
Commandment
Dec 15, 2023
3 - Sunshine Coast
Sunshine Coast
Field
Hachiman
Dec 15, 2023
6 - Sunshine Coast
Sunshine Coast
Field
Herman Hesse
Dec 16, 2023
9 - Caulfield
Caulfield
Field
Ucalledit
Dec 16, 2023
3 - Eagle Farm
Eagle Farm
Field
Rogue Bear
Dec 16, 2023
4 - Eagle Farm
Eagle Farm
Field
Hellavadancer
Dec 16, 2023
7 - Eagle Farm
Eagle Farm
Field
Cacofonix
Dec 16, 2023
9 - Eagle Farm
Eagle Farm
Field
Hachiman
Dec 16, 2023
4 - Gold Coast Poly
Gold Coast Poly
Field

Acceptances

Naahro
Dec 12, 2023
02:10 PM
1 - Tamworth
Tamworth
Field
Everylittle Breeze
Dec 12, 2023
05:50 PM
7 - Tamworth
Tamworth
Field
Hellavadancer
Dec 13, 2023
03:30 PM
4 - Wyong
Wyong
Field
The Extreme Cat
Dec 13, 2023
05:15 PM
7 - Wyong
Wyong
Field
Recent Winners
| Horse | Date | Race | Margin | Jockey |
| --- | --- | --- | --- | --- |
| Dream Hour | Dec 09, 2023 | 8 - Eagle Farm | 2.30 | A Mallyon |
| Willinga Freefall | Dec 09, 2023 | 2 - Eagle Farm | 1.80 | A Mallyon |
| Glentaneous | Dec 06, 2023 | 3 - Sandown-Lakeside | 2.00 | Damian Lane |
| Acquitted | Dec 02, 2023 | 6 - Doomben | 1.50 | James Orman |
| Ventura Ocean | Dec 02, 2023 | 3 - Townsville | 0.10 | N Thomas |
| Seguso | Dec 01, 2023 | 6 - Mudgee | 3.30 | A Bullock |
| Velvet Haze | Nov 30, 2023 | 1 - Coffs Harbour | 0.20 | Benjamin Osmond |
| The Extreme Cat | Nov 30, 2023 | 6 - Coffs Harbour | 2.50 | Ashley Morgan |
| Shuri | Nov 21, 2023 | 3 - Newcastle | 0.20 | Dylan Gibbons |
| Solutionist | Nov 19, 2023 | 5 - Taree | 0.20 | Dylan Gibbons |
| Strapparsi | Nov 18, 2023 | 4 - Gold Coast Poly | 0.80 | M Cahill |
| Velvet Haze | Nov 08, 2023 | 3 - Grafton | 0.00 | Benjamin Osmond |
| Spangler | Nov 07, 2023 | 7 - Royal Randwick | 1.30 | Tommy Berry |
| Tenzing | Nov 04, 2023 | 7 - Eagle Farm | 0.40 | Ben Thompson |
| Cacofonix | Nov 01, 2023 | 4 - Doomben | 4.00 | J Byrne |
| Solutionist | Oct 30, 2023 | 3 - Beaumont | 2.50 | Dylan Gibbons |
| Rising Pacific | Oct 28, 2023 | 4 - Doomben | 1.50 | Damien Thornton |
| INVINCIBLE WHIP | Oct 27, 2023 | 6 - Scone | 2.00 | Dylan Gibbons |
| Hachiman | Oct 27, 2023 | 7 - Bathurst | 1.30 | Brock Ryan |
| Brave Mead | Oct 21, 2023 | 1 - Caulfield | 0.80 | M Zahra |
SIGN UP FOR EXCLUSIVE OFFERS ON LATEST PURCHASES
"I would like to take this opportunity to thank you for the exceptional service that you provide.
Your guidance and knowledge has assisted in taking my breeding & racing enterprise to the next level with numerous results in Australia and internationally. Your dedication, professionalism and honesty is a quality unmatched.
Your international selection criteria is unrivalled and putting your own capital into what you recommend speaks for itself in the confidence of how you go about business."
"Winning a black type race overseas (with Delectation) is something I could never have imagined, and I have the greatest admiration and respect for the Australian Bloodstock guys. They are amazing how successful they have been at picking a horse with talent overseas, and bringing them to Australia and winning races. Their strike rate is so good. Big Duke is a prime example. He had won one race in England (at Wetherby) when Australian Bloodstock bought him, and he has since won the Launceston Cup and Manion Cup and Chairman's Handicap in Sydney for us"
As one of the owners of 2014 Melbourne Cup winner Protectionist, the Mendooran (NSW) farmer understandably rated the German stayer's runaway victory, with English jockey Ryan Moore aboard, as his greatest thrill in racing.
"It's been a wonderful association and, of course, still is with Australian Bloodstock. There's no way I could ever have envisaged getting the opportunity to win races all over the world in countries such as Germany, France, Singapore and New Zealand"