Come and experience the thrill of racehorse ownership!
With a group of mates, family or friends, there's nothing quite like cheering your horse home for a win!
Featured Horse!
SHALAA x RECOINAGE
◉ Magic Millions Lot 425
◉ Trainer: Archie Alexander
◉ Purchased for $264,000inc
''I love the stallion, we have 3 in our system and they all go well, one in particular is top draw. We went looking for a Shalaa, and it didn't take long to find him, he found us. Super colt.
Luck would have it, Australian Bloodstock were on him too, they are great judges, and we are delighted to have the colours in the stable." – Archie Alexander
Story by anzbloodstocknews.com.au:  Murrell and Lovett win third Preis der Diana in ten years with Andreas Wohler-trained daughter of Shamalgan Australian Bloodstock won its third Preis der Diana (Gr 1, 2200m) in a decade in Germany on Sunday, but don't expect to see...
read more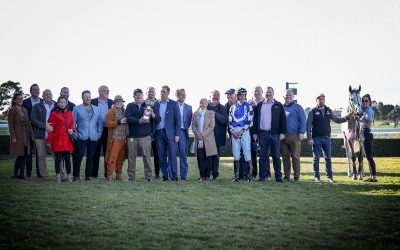 Saunter Boy | Aug 07, 2022 | Race: 5 - Sandown -Lakeside | Margin: 0.80 | Ciaron Maher & David Eustace /  S Pateman $400,000 Grand National Hurdle (4200 METRES)WATCH THE RACE>>Owners: Australian Bloodstock (Mgr: L Murrell), Australian Bloodstock No 2 (Mgr: J...
read more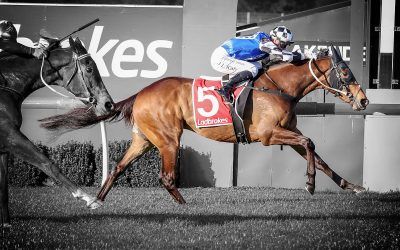 Golden Crusader | Aug 07, 2022 | Race: 6 - Sandown-Lakeside  Margin: 0.40 | Price Kent Racing / Jamie Kah $55,000 Ladbrokes Switch Handicap (2100 METRES)WATCH THE RACE>>Owners: Australian Bloodstock, Simon Dorrat, Louise Ellis, Matthew Faiman, Billy Geaney, Lisa...
read more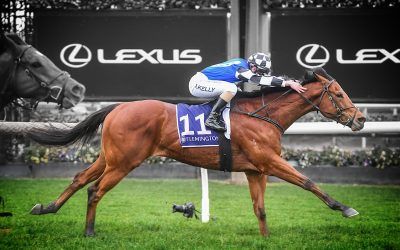 Turn On The Charm | Aug 06, 2022 | Race: 8 - Flemington| Margin: 0.30 | Price/Kent Racing / Alana Kelly $150,000 The Skyline Lounge (1410 METRES)WATCH THE RACE>>RECENT PURCHASES[mist_new_horses_available template="off" items_per_slide_tablet="1" loop_slider="on"...
read more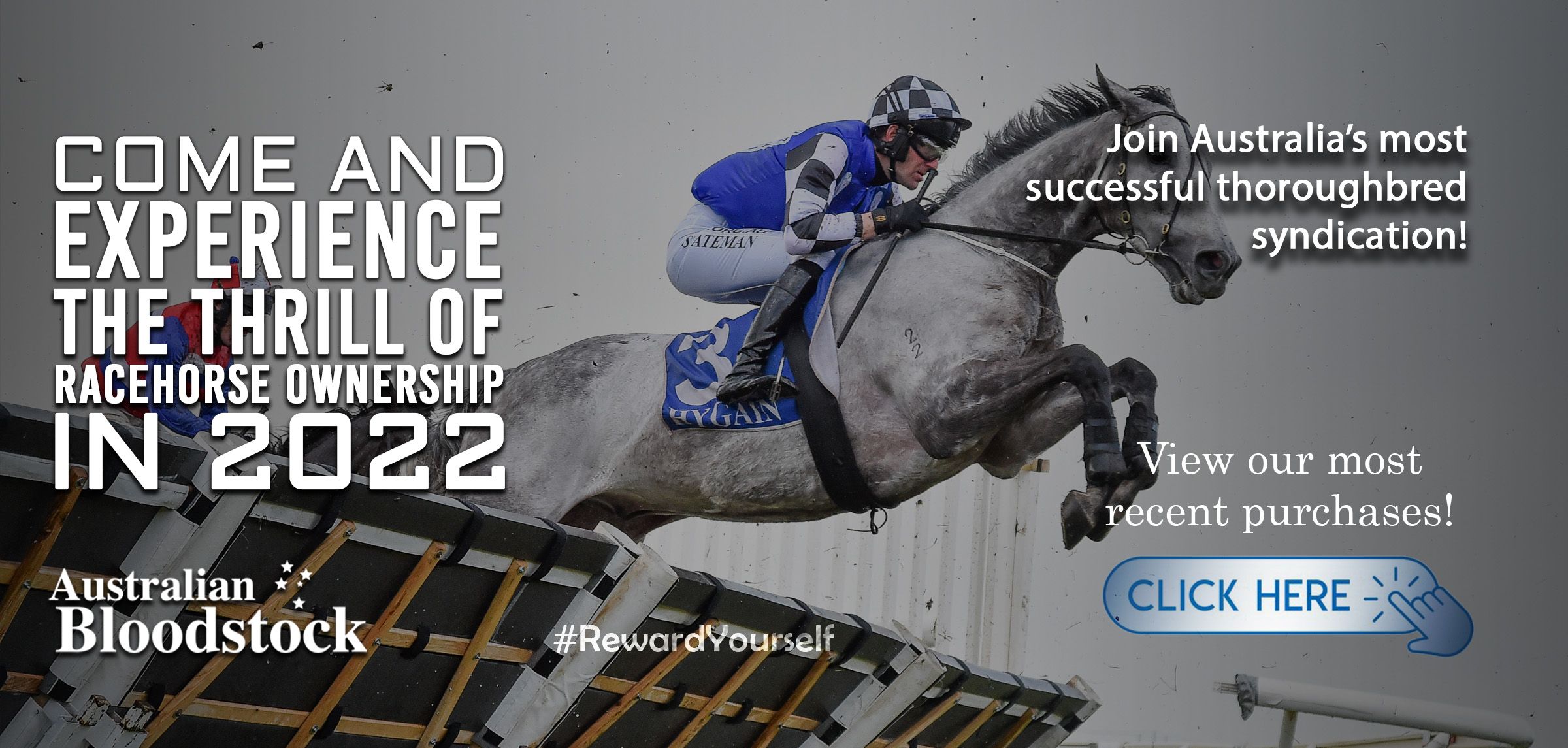 Upcoming Runners
Horse
Date
Time
Race
Track
Fields/Form

Nominations

Civil War
Aug 15, 2022
5 - Gunnedah
Gunnedah
Field
Ezekeil
Aug 15, 2022
3 - Gunnedah
Gunnedah
Field
Satay Chicken
Aug 15, 2022
6 - Gunnedah
Gunnedah
Field
Asherla
Aug 15, 2022
2 - Grafton
Grafton
Field
Wolverine
Oct 08, 2022
2 - Caulfield
Caulfield
Field
Artzino
Oct 08, 2022
2 - Caulfield
Caulfield
Field
Willinga Beast
Oct 08, 2022
2 - Caulfield
Caulfield
Field
The Extreme Cat
Oct 08, 2022
2 - Caulfield
Caulfield
Field
River Ribble
Oct 08, 2022
2 - Caulfield
Caulfield
Field
Willinga Beast
Oct 12, 2022
3 - Caulfield
Caulfield
Field
Wolverine
Oct 12, 2022
3 - Caulfield
Caulfield
Field
Mankayan
Oct 15, 2022
8 - Caulfield
Caulfield
Field
Gold Trip
Oct 15, 2022
8 - Caulfield
Caulfield
Field
Cacofonix
Oct 15, 2022
8 - Caulfield
Caulfield
Field
Mugatoo
Oct 15, 2022
8 - Caulfield
Caulfield
Field
Le Villi
Oct 15, 2022
8 - Caulfield
Caulfield
Field
Cacofonix
Oct 22, 2022
8 - Moonee Valley
Moonee Valley
Field
Le Villi
Oct 22, 2022
8 - Moonee Valley
Moonee Valley
Field
Mugatoo
Oct 22, 2022
8 - Moonee Valley
Moonee Valley
Field
Top Ranked
Oct 22, 2022
8 - Moonee Valley
Moonee Valley
Field
Gold Trip
Oct 22, 2022
8 - Moonee Valley
Moonee Valley
Field

Acceptances

Spangler
Aug 10, 2022
04:20 PM
6 - Randwick-Kensington
Randwick-Kensington
Field
Spangler
Aug 11, 2022
03:40 PM
6 - Newcastle
Newcastle
Field
Recent Winners
| Horse | Date | Race | Margin | Jockey |
| --- | --- | --- | --- | --- |
| Golden Crusader | Aug 07, 2022 | 6 - Sandown-Lakeside | 0.40 | Jamie Kah |
| Saunter Boy | Aug 07, 2022 | 5 - Sandown-Lakeside | 0.80 | S Pateman |
| Fifth Position | Aug 06, 2022 | 4 - Flemington | 0.10 | D Oliver |
| Snowzone | Aug 06, 2022 | 8 - Doomben | 0.20 | Ben Thompson |
| Turn On The Charm | Aug 06, 2022 | 8 - Flemington | 0.30 | Alana Kelly |
| Tawfiq Lass | Jul 20, 2022 | 7 - Randwick-Kensington | 1.50 | W Pike |
| Saunter Boy | Jul 17, 2022 | 4 - Racing.Com Park | 4.30 | S Pateman |
| Hemsworth | Jul 15, 2022 | 3 - Scone | 3.30 | Dylan Gibbons |
| WILLINGA FREEFALL | Jul 15, 2022 | 4 - Scone | 0.80 | Dylan Gibbons |
| Our Candidate | Jul 13, 2022 | 1 - Grafton | 2.00 | J R Collett |
| Zippy Power | Jul 12, 2022 | 1 - Gunnedah | 5.80 | Bailey Wheeler |
| Hellavadancer | Jul 12, 2022 | 4 - Gunnedah | 5.00 | Dylan Gibbons |
| River Ribble | Jul 07, 2022 | 1 - Cranbourne | 3.00 | Jye Mcneil |
| Tawfiq Lass | Jul 07, 2022 | 7 - Canterbury Park | 1.80 | J R Collett |
| Exolay | Jun 19, 2022 | 4 - Port Macquarie | 0.40 | Dylan Gibbons |
| Golden Crusader | Jun 18, 2022 | 4 - Donald | 3.80 | J Noonan |
| Grande Rumore | Jun 18, 2022 | 4 - Flemington | 0.80 | B Mc Dougall |
| Mankayan | Jun 11, 2022 | 9 - Sandown-Hillside | 2.00 | Matthew Cartwright |
| Per Inaway | Jun 04, 2022 | 8 - Rosehill Gardens | 0.80 | B Avdulla |
| Mobstar | Jun 02, 2022 | 8 - Wyong | 1.00 | Dylan Gibbons |
SIGN UP FOR EXCLUSIVE OFFERS ON LATEST PURCHASES
"I would like to take this opportunity to thank you for the exceptional service that you provide.
Your guidance and knowledge has assisted in taking my breeding & racing enterprise to the next level with numerous results in Australia and internationally. Your dedication, professionalism and honesty is a quality unmatched.
Your international selection criteria is unrivalled and putting your own capital into what you recommend speaks for itself in the confidence of how you go about business."
"Winning a black type race overseas (with Delectation) is something I could never have imagined, and I have the greatest admiration and respect for the Australian Bloodstock guys. They are amazing how successful they have been at picking a horse with talent overseas, and bringing them to Australia and winning races. Their strike rate is so good. Big Duke is a prime example. He had won one race in England (at Wetherby) when Australian Bloodstock bought him, and he has since won the Launceston Cup and Manion Cup and Chairman's Handicap in Sydney for us"
As one of the owners of 2014 Melbourne Cup winner Protectionist, the Mendooran (NSW) farmer understandably rated the German stayer's runaway victory, with English jockey Ryan Moore aboard, as his greatest thrill in racing.
"It's been a wonderful association and, of course, still is with Australian Bloodstock. There's no way I could ever have envisaged getting the opportunity to win races all over the world in countries such as Germany, France, Singapore and New Zealand"